It was supposed to be a friendly game between groups of youths from different cultures. But the defeat suffered by two primary schools in Beijing has triggered a wave of controversy online that has left sports fans across the nation reeling.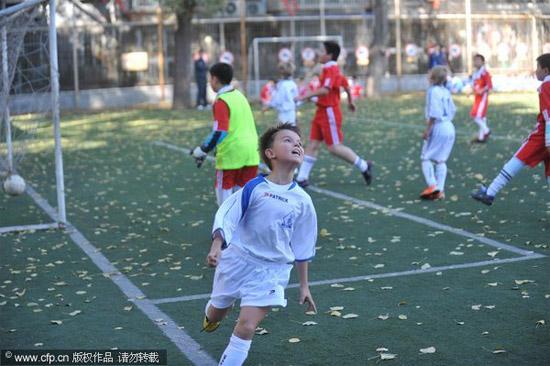 Chidren from Beijing Ditan primary school's soccer team compete with Russian Irkutsk Dynamo club youth team in Beijing, on Oct 24, 2011.[Photo/CFP]
The discussion was initially sparked on China's version of Twitter by news of the crushing 15-0 loss by Beijing Ditan primary school's soccer team to the visiting Russian Irkutsk Dynamo club youth team On Oct 24.
Chidren from Beijing Ditan primary school's soccer team compete with Russian Irkutsk Dynamo club youth team in Beijing, on Oct 24, 2011.[Photo/CFP]
But soon Weibo was engulfed in controversy.
Yang Sen, Principal of Ditan primary school, says although his pupils were much taller and older than their Russian counterparts, they lagged far behind their rivals as they sweated and gasped their way through the game.
The match ended 20 minutes early because the Chinese pupils lacked the endurance to continue.
But China's pride was retrievable the next day as the Russia team next faced the formidable Beijing South Lake East Park Primary School.
They had beaten Ditan by an average 30 points in the past.
But once again the Russian side celebrated, winning 7-3 on Oct 25.
Confronted with two successive blows from the same Russian youth team, many people voiced their frustration online claiming Chinese children are spoiled, unfit and not willing to take part in competitive sports.
One argued, "How can you expect kids who are so afraid of hurt and pain to fight bravely on the playground.They are so spoiled that they don't even carry their own schoolbags when attending school, but wait for their parents and even grandparents to carry them. It is just natural to see such a result."
However, Hao Haidong, a famous former soccer player with the National Soccer Team, wrote in his Weibo account,"No matter what happened, Children are the future of China's soccer development and they have been cultivated in the way they are today. As adults, we need to reflect on what our adults have done rather than taking a simplistic view by only blaming the kids. Plus, the education system also plays a big role in the current embarrassing situation."
With increasingly fierce competition in education, some believe children nowadays tend to spend less time on outdoors activities in order to save time to study.
Many Chinese parents choose to send their kids to various training courses after school, as well as on weekends and vacations. According to some,the cramming classes usually focus on mathematics and English, which fill so much of a child's life that they don't have adequate time to sleep let alone exercise and play in the nature.
"Although children now grow taller and bigger than previous generations thanks to the enhanced living standards and better nutrition, their body is not strong enough compared with their Western contemporaries," another commenter said.
"Sometimes you see kids on the street they are more often than not obese," they added.
To make matters worse, due to safety concerns, many parents and schools reduce and even prohibit some outdoor activities during breaks.
A primary school principal, who chose to remain anonymous, said "Compared with soccer and basketball classes, dancing and singing seem more popular among kids and rope-jumping and shuttlecock kicking are usually organized during break times instead of playing sports on the playground."
A senior expert on education also argued online the current education system focuses too much on textbook learning and exams, which has turned education into an end rather than a means to facilitate children's all round developmet.
Related stories
Editor:Zhang Jianfeng |Source: China Daily