DAMASCUS, Oct. 26 (Xinhua) -- Tens of thousands of Syrians rallied Wednesday in support for President Bashar al-Assad hours before the arrival of an Arab League (AL) ministerial delegation that aimed at finding ways to end the months-long crisis in the country.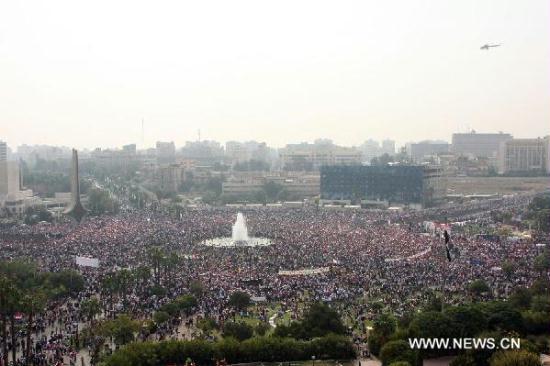 Tens of thousands of Syrian people rally in support of Syrian President Bashar al-Assad at the Umayyad Square in Damascus on Oct. 26, 2011. The demonstrators swarmed into Umayyad Square in the center of Damascus to stage a protest hours ahead of the visit to Syria of an Arab League ministerial committee to oversee the Syrian crisis and discuss ways of conducting dialogue between the regime and the opposition on Wednesday. (Xinhua/Bassim)
The Umayyad Square in the capital of Damascus and nearby streets were packed with supporters of Assad, who is up against blistering international criticism over his alleged bloody crackdown on protest movement.
The crowds, waving Syrian flags and hoisting posters of Assad, shouted slogans such as "God, Syria and only Bashar," while others carried banners, some of which read "Yes to the process of reforms launched by President Assad."
Syrians took to streets to demonstrate solidarity with Assad in the face of the criticize by the United States against our people, Dr. Jamal Abbas, a professor in the Faculty of Mechanical and Electrical Engineering in Damascus, told Xinhua.
Muna Masri, a housewife told Xinhua during the event that "we came here out of love for our president and nobody coerced us demonstrating."
"My son is in the military ... The Libyan scenario will not occur here, we feel sorry for what the president is going through, we are with him till death," Masri said while choking back her tears.
Related stories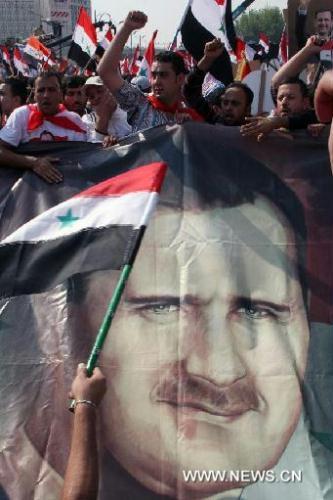 Participators wave Syrian flags and brandish pictures
of Syrian President Bashar al-Assad during the rally
by tens of thousands of people supporting Bashar
al-Assad at Omayyad Square in Damascus, Syria on Oct.
26, 2011.(Xinhua/Bassim)
The rally came hours ahead of the arrival of the AL ministerial delegation, combining foreign ministers of Qatar, Egypt, Oman, Algeria, Sudan and the AL chief Nabil Arabi.
The delegation would hold a single meeting on Wednesday afternoon with Assad amid speculations that it would propose an Arab initiative to help put an end to the crisis in Syria through initiating dialogue between the regime and the Syrian opposition.
Gulf countries who were working to suspend Syria's membership in the AL failed to gain enough supports during an AL meeting held in Cairo on Oct. 16.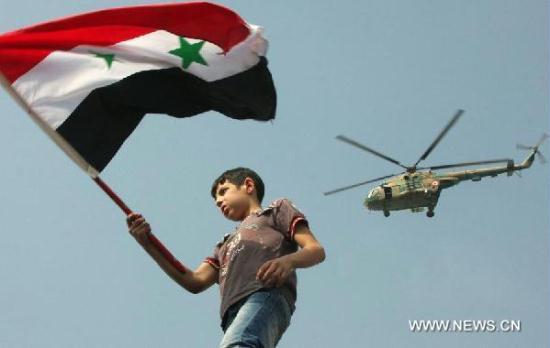 A Syrian kid waves a big Syrian flag during a rally held by tens of thousands Syrian President Bashar al-Assad's supporters at the Umayyad Square in Damascus, Syria on Oct. 26, 2011. (Xinhua/Bassim)
They then decided to give Syria a 15-day deadline to enact a cease-fire and to form a ministerial committee to participate in Syria's national dialogue.
The Syrian National Council, recently formed by Syrian opposition in Istanbul, urged the Syrians nationwide to observe a general strike on Wednesday to express rejection of the regime's violent assaults on protesters across Syria that, according to the UN, have claimed the lives of more than 3,000 people including military personnel.
Al-Watan newspaper said Wednesday that Syrian authorities seized in the central province of Homs leaflets instigating youths to stage a general strike.
The United States and its European allies have slapped sets of sanctions on senior Syrian officials and entities while calling on Assad to step down.
The latest move by the United States was pulling its ambassador from Syria due to "credible threats against his personal safety in Syria," according to a statement issued by the U.S. State Department. In response, Syria recalled its ambassador to the U.S. for consultations.
Editor:Zheng Limin |Source: Xinhua