BEIJING, Nov. 1 (Xinhua) -- Chinese Premier Wen Jiabao on Tuesday met a group of high-ranking U.S. entrepreneurs, and exchanged views with them on the development of China-U.S. trade relations.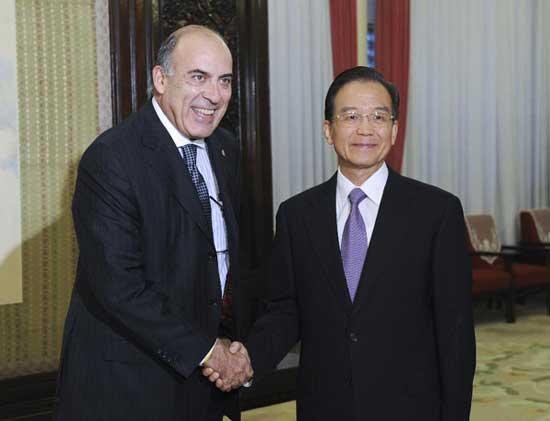 Chinese Premier Wen Jiabao (R) shakes hands with Chairman and CEO of the Coca-Cola Company
Muhtar Kent in Beijing, capital of China, Nov. 1, 2011. Wen met with a U.S.-China Business
Council (USCBC) delegation led by Muhtar Kent. (Xinhua/Li Xueren)
Wen stressed the importance of cooperating on trade relations, saying China will seek an effective way to solve the trade imbalance between the two countries through equal consultations.
The premier made the remarks in a meeting with the U.S.-China Business Council (USCBC) delegation led by Muhtar Kent, Chairman and CEO of the Coca-Cola Company.
"The two countries' economies will remain complementary for a long time. We are facing more cooperation and opportunities than competition and challenges in our trade relations," he said.
The Premier said the Chinese government will steadily pursue the policy of expanding domestic demands, continue to protect intellectual property rights, encourage Chinese companies to invest in the United States and cooperate more with the U.S. side in matters of economy, finance, technology and infrastructure construction.
Speaking highly of many USCBC members' "objective and calm" attitudes toward trade between the two countries, and their stance against politicization of these issues, Wen called on them to continue to push the U.S. government to take concrete action on lifting high-technology export restrictions, attracting and protecting Chinese investment.
"As the world's economy is slowly recovering and facing many challenges, China and the United States should well handle their own affairs, shoulder due responsibilities and strengthen mutual trust and assistance," Wen said, adding this will benefit not only the two countries but the world as a whole.
The delegation, including 17 CEOs and high-ranking managers from several well-known U.S. enterprises including Procter & Gamble, The Dow Chemical Company, Motorola, the Ford Motor Company, the General Electric Company, Citigroup and Johnson & Johnson, agreed with Wen on the importance of U.S.-China trade relations for the recovery of the world's economy and the stability of the world's financial situation.
The delegation, invited to the meeting by the China Council for the Promotion of International Trade, said the USCBC will continue to make a positive contribution to bilateral trade relations.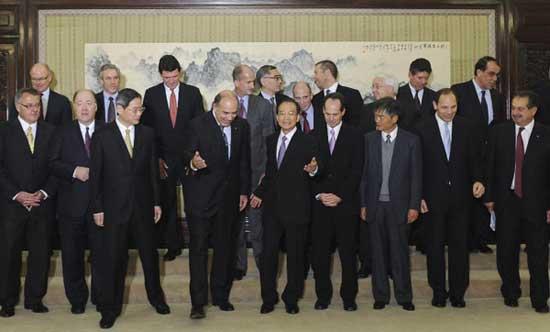 Chinese Premier Wen Jiabao (5th L, 1st Row) prepares to leave after the group photo opportunity
with the U.S.-China Business Council (USCBC) delegation led by Muhtar Kent, Chairman and CEO of
the Coca-Cola Company, in Beijing, capital of China, Nov. 1, 2011. (Xinhua/Li Xueren)
Related stories
Editor:Zhang Rui |Source: Xinhua