Launched just Tuesday, the Shenzhou-8 spacecraft will attempt to dock with the Tiangong-1 module as early as midnight Wednesday or in the early hours of Thursday, Chinese engineers revealed Tuesday.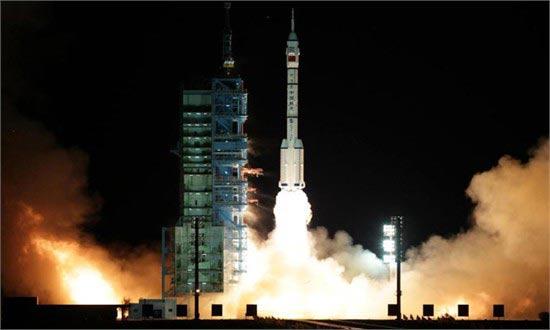 China's unmanned spacecraft Shenzhou-8 blasts off. Photo: Xinhua
The Tiangong-1 space lab, that took off on September 29, is waiting at an orbit of 343 kilometers as Shenzhou-8 will complete five orbit changes to rendezvous with it, Zhou Jianliang, a deputy chief engineer of the Beijing Aerospace Control Center, told China National Radio Tuesday.
"After the docking, the two will fly together for 12 days. On November 14, Shenzhou-8 will separate from Tiangong-1 before conducting another docking later the same day. The two will fly for another two days, before Shenzhou-8 completes its mission and return to Earth on November 17," Zhou said.
Shenzhou-8 blasted off at 5:58 am Tuesday from the Jiuquan Satellite Launch Center Tuesday and successfully reached its designated orbit.
Vice Premier Zhang Dejiang, who supervised the launch, said this meant China was a step closer to its first space docking, which would pave the way for building a space station by 2020.
Johann-Dietrich Woerner, head of the executive board of the German Aerospace Center (DLR), told the Global Times Tuesday that the space docking required high precision for the positioning of the two vessels.
"Experiments on Earth only need to consider two dimensions, but in space you have to consider a third dimension, as the two vessels are traveling very fast," Woerner said, noting the test would be a huge challenge for Chinese engineers.
Gregory Kulacki of the Union of Concerned Scientists told the Guardian that the mission was arguably China's most important since its first manned space flight in 2003.
"This is a real breakthrough in technology," Kulacki said. "To dock a spacecraft will involve a wide-ranging number of capabilities that mark a really big leap - much more so than just taking a spacewalk."
Senior officials from the European Space Agency and the DLR were invited to observe the launch of Shenzhou-8 at the Jiuquan center Tuesday.
During the mission, China and Germany will carry out 17 joint space life experiments aboard Shenzhou-8, the first time that China's space program will see international cooperation in the field of space life science.
Noting that China should have been included in missions of the International Space Station, Woerner said Beijing has to formulate a global strategy by cooperating with other countries in building its own space station and future space missions.
"I hope that peaceful space development will continue with all nations involved and that we will see no more space races. I hope China's space quest will not be exclusive. We should work together to have the best results in space," he said.
The journey of Shenzhou-8 will be followed by the launches of Shenzhou-9 and 10 in 2012, which will also to dock with Tiangong-1, with at least one of the two missions being manned.
Furthermore, Chang'e-3, China's third lunar probe, is scheduled for launch in 2013.
Morris Jones, a space analyst based in Sydney, told the Global Times that China is at the level which the US and Russia were at in the 1960s, but is progressing rapidly.
"China's advances in spaceflight are helping to keep space exploration moving forward for the whole world," Jones said.
China began its manned spaceflight program in 1990 and became the third country to send humans into space in 2003, after the Soviet Union and the US.
According to Reuters, the US will not test a new rocket to take people into space until 2017. Russia has said manned missions are no longer a priority for its space program, which has struggled with delays and glitches.
"The US and Russia have not entirely scaled back their programs, and are actually advancing, but experiencing some short-term problems," Jones said, adding that building and managing space stations is an essential part of any advanced space program.
Meanwhile, Joan Johnson-Freese, a professor of national security affairs at the US Naval War College, questioned the effectiveness of the US's policy to prohibit any space cooperation with China.
"The US restrictions on cooperating with China have ... served little useful purpose and have perhaps even been counterproductive in pushing China to work faster and with more dedication on its own program," she was quoted as saying by the Diplomat magazine Friday.
Related stories
Editor:Zhang Jianfeng |Source: Global Times