Libya's ruling National Transitional Council (NTC) elected bdul Raheem al-Keeb, a little-known academic and wealthy businessman who helped finance the revolt against Muammar Gaddafi, as the country's new interim prime minister on Monday night, while the NATO officially concluded its more than seven-month-long mission in the North African country.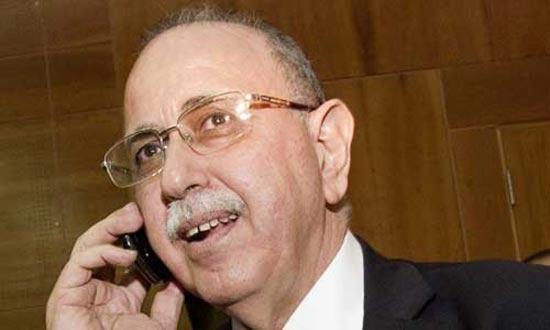 Newly-elected Libyan Prime Minister Abdul Raheem al-Keeb speaks on the phone at the end of a public vote in Tripoli on Monday. Photo: AFP
"We guarantee that we are going to build a nation that respects human rights and does not accept the abuse of human rights. But we need time," Keeb told reporters after winning 26 out of 51 votes from NTC members, seeing off four rival candidates, notably interim oil minister Ali Tarhuni and Idriss Abu Fayed, a Gaddafi opponent who was jailed by the former regime.
The NTC has promised to hold elections for a national assembly in eight months. The assembly will then spend a year drawing up a constitution ahead of parliamentary and presidential elections.
Born in Tripoli in 1950, Keeb, a professor of electrical engineering, spent much of his life outside Libya, studying in the US before taking up academic posts in Qatar and the United Arab Emirates.
"He can't even speak fluent Arabic, at least worse than English," a person who attended the press conference in Tripoli told the Global Times, adding that Keeb even laughed out when he struggled to spell out Arabic words.
His experience as a technocrat, his generous financial support for the NTC and the presentation he delivered to voting NTC members earlier Monday culminated in his election, AFP said.
Many analysts have pointed to the divisions emerging within the NTC, but Keeb said any fears were unfounded. "Within the NTC, what you see is democracy in practice. This is new for us in Libya. This is democracy in practice," Reuters quoted him as saying.
"A technocrat from abroad, with little entanglement with the former Gaddafi regime, could be widely accepted by Libyan people psychologically and Western countries. But, at the same time, Keeb has no real backup in the halls of power inside Libya, which could prevent him from acting effectively at his position," Yin Gang, a researcher on Middle East issues at the Chinese Academy of Social Sciences, told the Global Times Tuesday.
In the meanwhile, the no-fly zone and naval blockade, enforced by NATO since March, ended a minute before midnight Monday, as stipulated by a UN Security Council resolution last week that ended the alliance's mandate.
A NATO statement said an Airborne Early Warning and Control Aircraft used for coordinating the air and sea mission concluded the last alliance flight of the Libyan operation at midnight Libyan time, according to Reuters.
It said that since the beginning of the NATO operation, the alliance's aircraft had conducted more than 26,500 sorties, including 9,700 strike missions.
In a resolution drawn up by Russia, the UN Security Council on Monday called on Libya's interim authorities and neighboring countries to "to take all necessary steps to prevent the proliferation of all arms," especially man-portable surface-to-air missiles, which can be used against civilian jets.
Related stories
Editor:Zhang Jianfeng |Source: Global Times