A number of escalators in Beijing's subways are still not operational following July's fatal escalator accident, and weary commuters, the elderly and disabled are complaining of the inconvenience they face on a daily basis.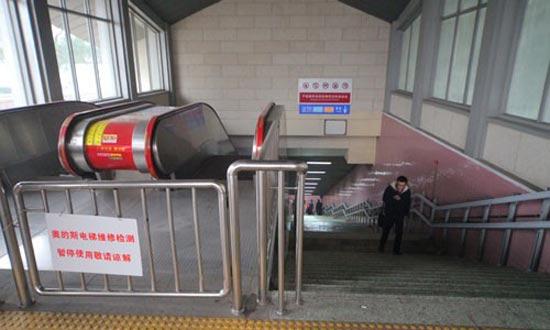 An Otis escalator at Xizhimen subway station is still closed off yesterday, with a board suggesting it is "under maintainance." Photo: Wang Zi/GT
After the accident at Beijing Zoo Station on July 5, in which an escalator malfunction killed a 13-year-old boy and injured 30 others, the subway stopped all 257 Otis escalators across the system.
While many are operating normally, several still have signs on them saying they are "under maintenance."
The accident, caused by damaged fastener bolts of the main engine of the escalator, made the escalator suddenly go into reverse. Lack of maintenance by Otis was also blamed for the accident.
The most complained-about stations where escalators are non-functional, and where exhausted commuters must climb over 100 steps, are at Xizhimen, Beijing Zoo and Xuanwumen stations.
"It's really a tough job to climb up 108 steps every day," Web user "Qunshangongwu" complained on Sina Weibo.
At the entrance G of Xuanwumen station, an interchange between lines 2 and 4, a passenger in her 50s, surnamed Luo, sighed heavily before she started climbing the 108 steps. She stopped twice to rest on the way up.
"Why has it taken such a long time to repair the escalator, and why hasn't it been removed if it's considered to be faulty?" she said, gasping for breath.
Other Web users say that Otis and the subway operating company, Beijing MTR Company, should be held accountable for the inspection process, and for when escalators are put back into use.
As of Tuesday evening, Yang Ling, spokeswoman for the Beijing MTR Company, in charge of the subway's escalators, had not replied to questions the Global Times sent, asking when all escalators would be fully operational.
"It's not the right time to respond to this issue at present, as the investigation into the escalators isn't complete," said a public relations officer, surnamed Xi, at Otis Tuesday, "although the result should have been made public by the end of September," she noted.
Two anonymous female employees at entrance G of Xuanwumen Station told the Global Times Tuesday that the escalator is still under repair, and they "are just waiting for an announcement to turn it on."
"We suggest elderly and disabled passengers, and those with heavy luggage take the elevator," one of the employees said. The station's public address system announces passengers can use the lift if they need to.
Apart from the stopped escalators at the stations in the Subway Line 4, passengers have been grumbling about the general inconvenient design of subway stations. At older stations, like Chongwenmen Station, Subway Line 2, there is only one escalator, and at modern stations, some entrances only operate an "up" escalator, or none at all, which inconveniences the elderly, disabled, and passengers with heavy luggage. It is still difficult for passengers with heavy luggage to access the Airport Express from the subway system.
"It's very tiring for me to get in or out of a subway station if I have to use the stairs, but what concerns me the most is the fear of falling down some of those long, steep staircases," said a 55-year-old passenger, surnamed Gao, who has a disability in her lower limbs.
"I'd prefer to use an elevator, but not every station entrance has one, and the one-way escalators at some stations cause me great trouble," she said.
Eight Otis escalators located at the overpasses in and around Beijing West Railway Station were put out of operation on September 13, as they were examined as unqualified and were suggested to be replaced.
Editor:Zhang Jianfeng |Source: Global Times