LOS ANGELES, Nov. 1 (Xinhua) -- Michael Jackson's personal doctor Conrad Murray, who is charged with involuntary manslaughter for the pop star's 2009 death, refused to testify in his own defense Tuesday.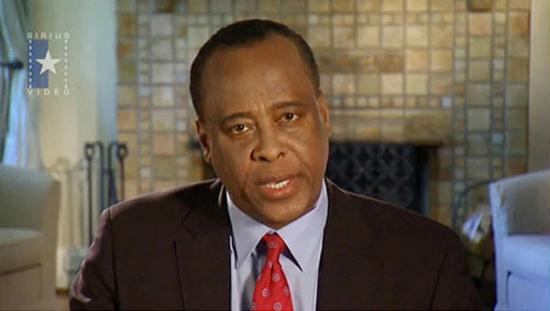 Dr. Conrad Murray, personal doctor for Michael Jackson (Photo:Xinhua/Reuters Photo)
The 58-year-old cardiologist told Los Angeles Superior Court Judge Michael E. Pastor his decision not to testify and resign his fate to a jury instead. Edward Chernoff, the defense attorney, also told the judge that they had discussed the matter many times before.
In Tuesday's court proceedings both prosecution and defense attorneys rested their case, and the closing arguments are expected to begin Thursday morning.
During their weeklong court proceedings, the defense team has called 16 witnesses, including Murray's patients who described the former doctor as a caring and competent medical practitioner.
A seven-man, five-woman jury heard testimonies from 49 witnesses from both sides during the 22-day long proceedings.
Earlier, Dr. Paul White, the defense's final witness and a Propofol expert, completed his four-day testimony, attacking the conclusions Dr. Steven Shafer, the prosecution's main witness, had made in the case.
Although White admitted Murray had deviated from how a doctor should perform, he still said he thought Jackson gave himself a fatal overdose.
Shafer made a brief appearance to challenge White's conclusion as the prosecution's rebuttal witness. His simulations and a 2002 study have ruled out the defense's hypothesis that Jackon had given himself an infusion, he said.
The Los Angeles County Coroner's Office ruled that Jackson died from acute Propofol intoxication when he was rehearsing for his sold-out series of 50 concerts dubbed "This Is It."
Prosecutors seek to prove Murray had failed to properly monitor Jackson after giving him a lethal dose of Propofol. They contended that the cardiologist "repeatedly acted with gross negligence, repeatedly denied appropriate care to his patient, Michael Jackson, and that it was Dr. Murray's repeated incompetence and unskilled acts that led to Mr. Jackson's death on June 25, 2009."
Defense attorneys argued Murray was weaning Jackson off the medication. He was hired by Jackson to care for him two months before his death. Murray, who is set free on a bail of 75,000 U.S. dollars, faces up to four years in prison and the loss of his medical licenses if convicted of the felony charge.
Related stories
Editor:Wang Xiaomei |Source: Xinhua