ATHENS, Nov. 6 (Xinhua) -- Greek Prime Minister George Papandreou and main opposition leader Antonis Samaras reached an agreement on Sunday evening on a national unity government with a new prime minister, said a statement of the president's office.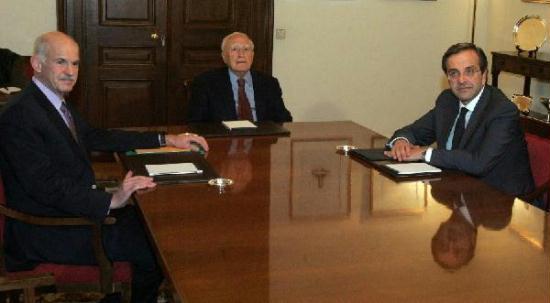 Greek President Karolos Papoulias (C) holds a meeting with Prime Minister George Papandreou
(L) and the main Greek opposition leader Antonis Samaras at the Presidential Mansion in
Athens, Greece, Nov. 6, 2011. In response to a call by Papandreou, Antonis Samaras accepted
a meeting later on Sunday evening hosted by Papoulias to discuss a new coalition
government. (Xinhua/Marios Lolos)
According to the statement issued after their meeting, which was hosted by President Karolos Papoulias, a new prime minister will be named on Monday, following further talks between Papandreou and Samaras.
"The new government shall lead the country to early general elections after the implementation of the October 26 EU agreement decisions,"said the statement.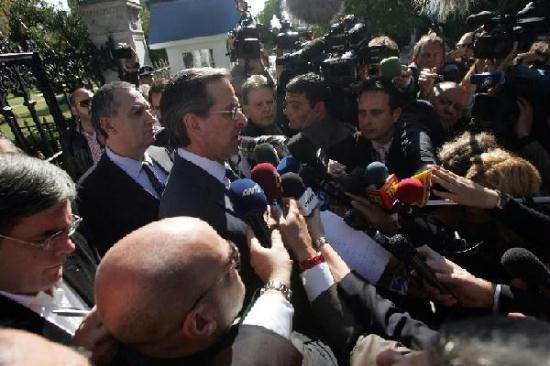 Antonis Samaras speaks to media reporters after his meeting with Greek President Karolos
Papoulias in Athens Nov. 6, 2011. Greek main opposition leader Antonis Samaras insisted on
Sunday that Prime Minister George Papandreou should resign before any negotiations on a
national coalition government. (Xinhua/Marios Lolos)
Editor:Wang Xiaomei |Source: Xinhua