SAN FRANCISCO, Nov. 4 (Xinhua) -- With its popular iPhone series, Apple seized more than half of the profits generated by the top eight mobile phone manufacturers during the third quarter, said a monthly market analysis released on Friday.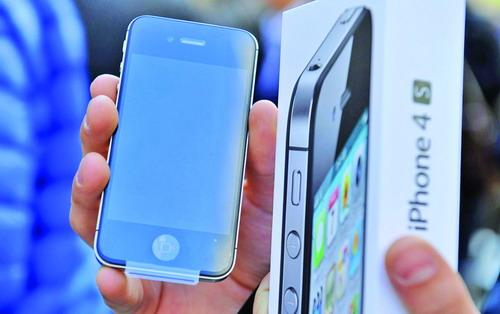 A proud Apple customer shows off the new iPhone 4S he purchased at an Apple store in
Munich, Germany. (Photo: China Daily)
Apple generated a remarkable 52 percent of handset industry operating profits for the top eight OEMs (original equipment manufacturers) in the third quarter, up five percent over the same period of 2010, said Canaccord Genuity technology analyst Michael Walkley.
The number was down from 57 percent in the second quarter, due to a drop in iPhone sales as customers held out for the upcoming iPhone 4S.
Apple's major rival in the mobile industry is Samsung. The two companies together represented 81 percent of the handset industry' s operating profits last quarter.
Other major mobile phone manufacturers are Nokia, Motorola, Sony Ericsson, HTC, Research In Motion and LG.
Calling it "an epic reversal of fortunes," Walkley noted that in 2007, Nokia had 67 percent of operating profits while Apple had just 4 percent. Compared with Apple's 52 percent of industry profits in the third quarter of 2011, Nokia has been relegated to its rival's former position with just 4 percent of operating profits.
The analyst said he has conducted "channel checks" that show strong demand not only for the new iPhone 4S but also for the previous models of iPhone 4 and iPhone 3GS. He told technology news website AllthingsD that Apple is believed to be able to gain further value share in the December quarter and capture over 60 percent of industry profits.
In a Bloomberg report on Friday, several technology analysts said the two-year-old iPhone 3GS, whose price has been slashed to zero if it is purchased with a contract, will become one of Apple' s big weapons in the coming holiday season against smartphones running Google's Android system.
Editor:Wang Xiaomei |Source: Xinhua