China's women's volleyball team clinched a victory over host Japan at the 2011 FIVB Women's World Cup in Hiroshima, with 3-2 (20-25, 25-19, 20-25, 25-23, 15-13).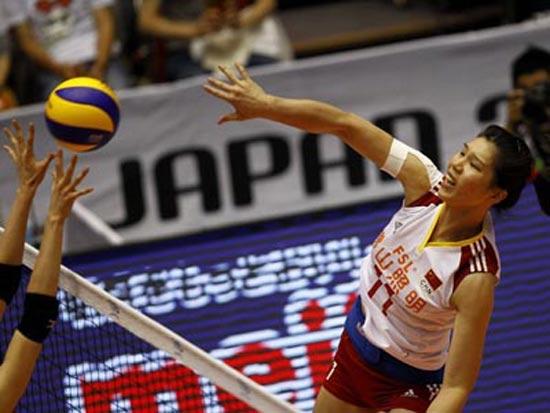 Xu Yunli of China hit a spike during the game agasint Japan at the 2011 FIVB Women's World Cup in Japan.
Japan geared their good momentum quickly in the first set and took the lead the game. China adopted more aggressive strategy and rallied to win the second set.
With Saori Kimura, one of the top players in Asia, Japan imposed pressure to China's defensive line while picked up the attacking speed, which restricted China from scoring.
Following China brought the game level in the fourth set, Japan once led the final set 6-2 despite China retained their form and defeated the host by narrow margins at the key moments.
"The defense and attack on the Japanese side are really of high quality," China's coach Yu Juemin felt satisfied with the victory.
China will face Dominican Republic in the morning of Tuesday.
The medalist teams of the 2011 FIVB Women's World Cup will qualify into the 2012 London Olympics.
Related stories
Editor:Zhang Jianfeng |Source: CRI