Group buying used to be one of the fastest-growing sectors in China, having gained a huge market over the last two years. But amid a dip in sales figures and widespread layoffs in the industry, the future suddenly seems less bright.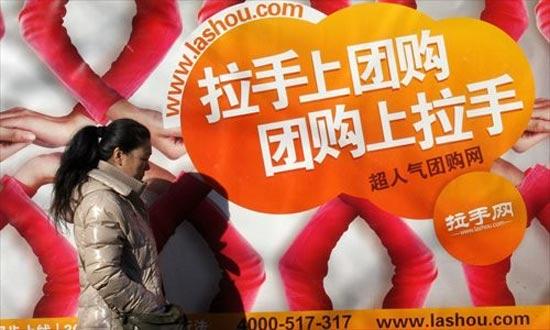 One of the famous websites for group buying.
"Winter has come for group buying," Shen Boyang, general manager of meituan.com, said in July
A report by group buying information portal tuan800.com said the total sales volume for the sector in September was 1.15 billion yuan ($180.93 million), down 8 percent from 1.26 billion yuan in August, representing the first drop the industry has seen.
There are now more than 5,000 group buying websites in China, and amid the cutthroat competition profits are ever-harder to come by. Analysts believe many of the firms will close, and even those that remain will have to change their approach.
"The novel business model of group buying and the quick spread in business volume drew investors' interest. But the bubble has become too big," an official at lashou.com, one of the leading group buying sites in China, told the Global Times.
According to China e-Business Research Center, the leading group buying sites - including lashou.com, nuomi.com and meituan.com - have received several rounds of investment funding from venture capital firms.
But in the whole industry only two firms have started to make a profit so far - shuangtuan.com and lashou.com.
There has also been a tide of layoffs recently. Since April this year, meituan.com and 55tuan.com have announced staff redundancies. And the China branch of Groupon fired more than 500 people in August, according to Zhao Zhanling, attorney for the laid-off Groupon employees.
Too many, too similar
"Group buying is definitely useful for both consumers and companies. But the sites rely too much on investment," Wang Tingting, an analyst at IT consulting company iResearch, told the Global Times.
The many group buying websites also operate in a similar manner and offer the same services, said Wang. They spend money mainly on human resources and marketing campaigns. Groupon allocated more than 500 million yuan for its advertising budget this year, while nuomi.com and lashou.com each allocated 200 million yuan.
The business also requires a huge number of employees, with the larger firms all employing several thousand staff.
"These group-buying sites make coverage and market share their priority in development. Profit has been put aside. But the high operating costs and brutal competition make it very difficult," said Wang.
"It's getting harder for group buying sites to get money from investors. The whole industry is facing a reshuffle. Most of the sites will close," said Chen Shousong, an analyst at consulting company Analysys International.
No business value?
"In my opinion, group buying sites haven't found their business value," Chen Cheng, an investor at venture capital firm Hony Capital, told the Global Times.
Most of the buyers who use group buying sites are attracted by the new form of shopping and anticipate super-low discounts, Chen explained. Many companies may need to clear their stock or try to gain popularity by providing super-low discounts. But companies won't always do that, said Chen.
Also, the huge number of sites, all with similar services, means there are no loyal users. High costs are another issue, as group buying sites are responsible for the delivery, quality and after-sales service for the goods.
Two of the main reasons companies and retailers cooperate with group buying sites are sales and advertising. But on one hand, they can't always provide low discounts. And on the other, group buying sites cannot provide comprehensive advertising services. The sites can't categorize their registered users in terms of age, income, habits and needs because buyers are not willing to provide such detailed information when registering.
Currently, the business value of group buying sites is based on transactions of cheap goods, with a huge number of "masked" customers, said Chen.
"Investors just noticed the huge potential of group buying in China and were dazzled by the initial success. But they soon saw the problems and stopped investing," said Chen.
A new model
"Group buying sites are aware of their problems and are making adjustments. They are trying to focus more on providing local services to customers, rather than just selling cheap goods. In other words, they are becoming purer O2O (online-to-offline) service providers," said Chen.
"Actually group buying is just one application of O2O - buyers choose and pay online and receive the services offline. O2O may be the solution to solve group buying's problem of a lack of business value," Zhang Yan, an analyst at Data Center of China Internet, told the Global Times.
A report by tuan800.com said that group buying purchases of items accounted for around 20 percent of sales in the industry in September, while purchase of services accounted for 80 percent.
"Localized services, not objects, will be the strength of group buying. Dining reservations, renting apartments and cars, booking tickets online are all part of the O2O business," Geng Danhao, vice president of group buying for Qihoo 360, told the Global Times.
"O2O allows group buying sites to be agents for the customers. The sites can also collect buyers' personal information through transactions. In this way, the business value of group buying sites will be increased," Chen noted.
"Though the winter for group buying has come, the new direction to solve the industry's problem is also here," said Zhang. "Hopefully it can be a stepping-stone in the development of O2O."
Editor:Zhang Jianfeng |Source: Global Times