Home fans may have mixed feelings in Shanghai as Song Nan won a surprising medal in China's weak field of the men's singles figure skating while Olympians Zhang Dan and Zhang Hao settled for a straight silver in their second ISU Grand Prix after a whole year off because of injury.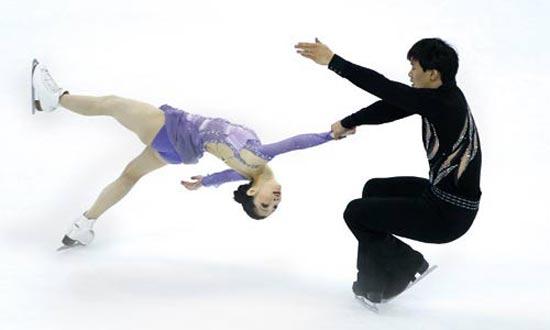 China's Zhang Dan (left) and Zhang Hao perform during their pairs skating event. Photo: CFP
As the only men's singles skater having completed a perfect quad jump with few flaws in following planned elements of the routine, Song Nan, who just stepped onto the world's senior stage in 2010, got a very high free skating score of 154.03 points and jumped to third place on 226.75.
The 21-year-old, only finishing a distant fifth after Friday's short program, thus became the first Chinese to win a medal in an ISU Grand Prix since 2004 when the now-retired Li Chengjiang earned a bronze at the Grand Prix Final.
American Olympian Jeremy Abbott lifted the men's title though falling in the rink while performing his opening quad toe loop in free skating, piling 149.17 points to a total score of 228.49, while Japan's Nobunari Oda also fought back from a disappointing short program to settle for a silver with a narrow deficit of 1.38 points in total.
"Song performed a very difficult, world-class routine in the free skating," said Ren Hongguo, deputy director of China's winter sports administrative center. "The bronze medal means a lot both to Song Nan himself and the country's future in the sport."
Local favorite pair Zhang Dan and Zhang Hao, the Turin Winter Olympic silver medalists who missed the whole 2010-2011 season with Zhang Hao's broken finger, managed to move one position up to the final runners-up place, though having suffered a fall in their throw triple loop, trailing Yuko Kavaguti and Alexander Smirnov by almost 10 points.
The duo got a total score of 177.67, with 117.10 points from Saturday's free skating adding to the 60.57 points in the short program. Kavaguti and Smirnov led in both programs and won by 186.74, while Canada's Kirsten Moore-Towers and Dylan Moscovitch finished third.
Other Chinese pairs Sui Wenjing/Han Cong and Yu Xiaoyu/Jin Yang respectively finished the fifth with 169.47 and the sixth on 162.96, as the hosts' leading couple Pang Qing and Tong Jian opted to skip the first three stops of this season's ISU Grand Prix series.
"No worries about China's perspective in pairs figure skating," said Ren Hongguo.
"Pang and Tong are hiding their best, Zhang Dan and Zhang Hao need time to make up for their one-year off, and Sui and Han are just too young and too eager to win."
Pairs has been the strongest and most decorated figure skating event for China in both Olympic Games and world championships as retired Shen Xue and Zhao Hongbo claimed the country's first Olympic gold of the sport last year in Vancouver and Pang and Tong succeed them to take the worlds title.
"There's three years to go before the 2014 Winter Olympic Games in Sochi, and anything could happen in all those days. We still have time to make adjustments," Ren added.
After Saturday's competitions, Italian Carolina Kostner lifted the women's singles trophy to deny an ambitious run from Mirai Nagasu of the US, and the ice dancing title went to Russia's Ekaterina Bobrova/Dmitri Soloviev with clear victories in both short dance and free dance.
Related stories
Editor:Zhang Jianfeng |Source: Global Times