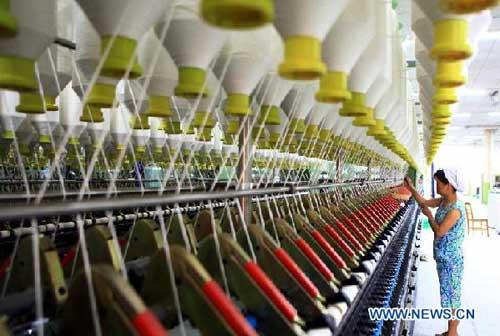 A worker operates a cotton spinning machine at a textile mill in Jiujiang,
east China's Jiangxi Province, Oct. 21, 2011. China's Purchasing Managers'
Index (PMI) dropped to 50.4 percent in October after rising for two
consecutive months, down 0.8 percentage points from September, the
China Federation of Logistics and Purchasing (CFLP) said Tuesday.
(Xinhua/Zhang Haiyan)
by Yang Lina
BEIJING, Nov. 7 (Xinhuanet) -- Analysts say that China will selectively ease its tightening policies in the coming months to bolster its economic growth, which has shown signs of slowdown due partly to weak overseas market demand.
Against the backdrop of the sluggish global economic recovery, the importance of maintaining a steady growth has been highlighted.

Chinese President Hu Jintao on Thursday urged the world's major economies to work together to promote growth and financial stability at the G20 summit in Cannes.
Hu said, "At this critical moment, the G20 must work to address the key problems, boost market confidence, defuse risks and meet challenges and promote global economic growth and financial stability," as the global recovery is fraught with instability and uncertainty.
Impacted by the prolonged Eurozone debt crisis and the volatile global financial market, many countries including the U.S., Japan and India have lowered their growth forecasts.
Although it is out of question for China to maintain an annual growth rate of 8 percent this year, analysts predict that the economic growth in the fourth quarter may edge down to below 9 percent.
"Considering the economic turbulence in developed countries and China's own urgent task of restructuring its growth pattern, an economic slowdown is inevitable," said Li Daokui, an academic adviser to the People's Bank of China.