BEIJING - Domestic auto distributor Pang Da Automobile Trade Co Ltd and automaker China Youngman Automobile Group Co Ltd have joined in a bid to acquire the failed Swedish carmaker Saab Automobile AB for 100 million euros ($138 million).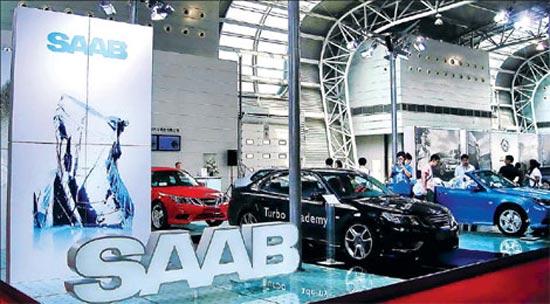 Saab exhibit at an imported car show in Shanghai. Unable to pay workers and suppliers, the brand ceased production earlier this year. Provided to China Daily
Both companies and Saab's current owner Swedish Automobile NV - previously known as Spyker Cars NV - signed a memorandum of understanding (MOU) on Oct 28. The final contract will be inked before Nov 15, according to a statement by Pang Da on Nov 1.
If the deal is completed, it would mark the second time Chinese investors acquired a troubled Swedish automaker. Zhejiang Geely Holding Group Co bought Volvo Cars from Ford Motor Co last year.
According to the MOU, Youngman would hold 60 percent of Saab and Pang Da would have the remaining 40 percent.
The agreement - which is not now legally binding and expires on Nov 15 - requires that both companies pay half the purchase price when the final deal is inked and pay the remaining 50 million euros ($690 million) over the next four years.
The latest move was ray of hope in a series of failed attempts at Saab. In the middle of this year, Youngman and Pang Da reached a tentative agreement to buy part of the carmaker, but the parent company terminated the deal in late October.
Another Chinese automaker, Hawtai Motor, failed in a previous bid to buy equity in Saab after it was unable to gain approval from Chinese regulators.
The outlook for the latest takeover is also uncertain, as it is dependent on approvals from China's Development and Reform Commission - the nation's top economic planner - as well as Saab's former owner General Motors and creditors including the Swedish government and European Investment Bank.
Some industry observers said it could be difficult for Pang Da and Youngman to get the green light from Chinese regulators since the government is now cautious about possible overcapacity in the industry.
The large funding needed to truly revive the brand will also pose a big challenge for the Chinese buyers if the deal is approved, some analysts warned.
Saab has been struggling on the verge of bankruptcy since last year, when its former owner General Motors sold it to Spyker. Saab production ceased early this year after it could no longer pay employees and suppliers.
According to a Wall Street Journal report, Pang Da's chief executive Pang Qing hua said his company and Youngman plan to invest about 2.2 billion euros ($3 billion) in Saab over five or six years to expand the lineup with new models and build facilities in China.
Of the planned investment, 610 million euros ($830 million) would go to restarting production, clearing debts and funding operations for 2012 and 2013, the report said.
In the documents submitted to a Swedish court, Chinese investors said they plan to return Saab to profitability in 2014 and boost annual sales to more than 200,000 units in the long term.
The carmaker sold about 32,000 cars last year globally.
Editor:Zhang Jianfeng |Source: China Daily