The re-entry capsule from China's unmanned spacecraft Shenzhou-8 was officially opened at 10 am on Monday in Beijing at a ceremony in which some of the onboard items were displayed to the public.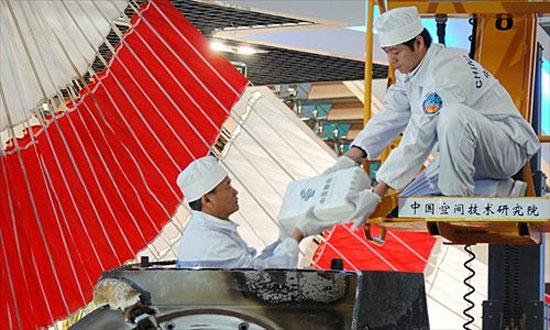 The Shenzhou-8 spacecraft was opened in Beijing on Monday. Photo: CFP
A total of 21 packages, wrapped with special China Post packaging, were taken out of the capsule by staff members from the China Academy of Space Technology, where it was designed, and handed over to notaries in two batches before further processing.
The capsule appears to be in good condition, with its surface still smooth and the structure intact. The color of its surface has turned brown, which indicates a proper ablation, a process in which material from the surface of an object is removed through erosive processes, according to CCTV.
A number of scientific experiments were conducted during Shenzhou-8's space journey. Thirty-three samples from 17 space biology projects were onboard the spacecraft, 10 of which were carried out by China, six by Germany, and one jointly by both countries, according to China National Radio.
A ceramic vase depicting Shenzhou-8's docking with Tiangong-1 was unveiled at the ceremony. The vase has been donated to the National Museum along with the draft design of the spacecraft.
Scientists will analyze the data accumulated during the space docking mission in order to make further improvements on the spacecraft, said Pang Zhihao, an aerospace expert.
Editor:Zhang Jianfeng |Source: Global Times