TRIPOLI, Nov. 22 (Xinhua) -- The lineup of a new Libyan interim government is due to be unveiled by Prime Minister Abdel Rahim el- Keeb at a press conference in Tripoli late Tuesday, Housam El Feituri, el-Keeb's media advisor, told Xinhua.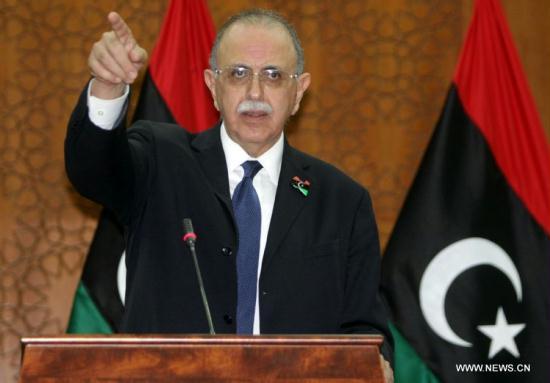 Libyan interim Prime Minister Abdel Rahim el-Keeb attends a press conference during which
he announced the lineup of the interim government in Tripoli, Libya, Nov. 22, 2011.
(Xinhua/Hamza Turkia)
Here is a preliminary list of cabinet ministers Xinhua obtained from an official of the ruling National Transitional Council, who requested anonymity.
Financial Minister: Ali El Tarhouni
Foreign Minister: Ibrahim Al-Dabashi
Interior Minister: Fawzy Abdel Aal
Health Minister: Eman Buqeiqei
Education Minister: Soliman El-Sahli
Communication Minister: Anwar El Fetori
Industry Minister: Mahmoud El Ghatesy
Defense Minister: Osama El-Gawaly
Justice Minister: El-Hadi Shlof.
Electricity Minister: Awad El Badaasi
Human Rights Minister: Abdel Rahman El-Swihly
Oil Minister: Abdel Rahman Beneza.
Related stories