Saif al-Islam Gadhafi was betrayed to his captors by a Libyan nomad who says he was hired to help Moammar Gaddafi's son escape to neighboring Niger on the promise that he would be paid 1 million euros (US$1.354 million).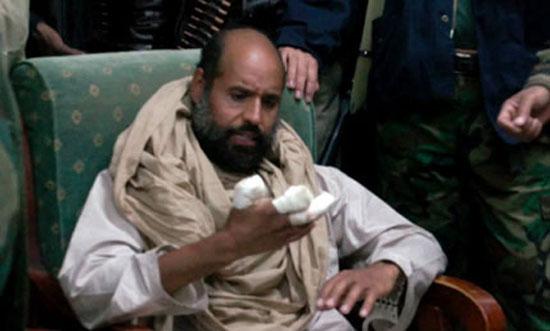 In this still taken from new footage released Tuesday, Moammar Gaddafi's son Saif al-Islam examines his injured hand. The video was recorded in the town of Zintan shortly after his capture last Saturday. [Photo: Shanghaidaily/Agencies]
Saif al-Islam, wanted for prosecution by the International Criminal Court, was captured at the weekend in what one official in the country's new government said was "the final chapter in Libya's drama."
Guide Yussef Saleh al-Hotmani said that he contacted revolutionary fighters in Libya's south to inform them when Saif's two-car convoy would be passing through the area last Friday.
"I made Saif believe that I trusted him," he said yesterday in Zintan, where Saif al-Islam is being held at a secret location before the details of his prosecution are finalized.
On the night of Saif al-Islam's capture, Hotmani said he was traveling with the younger Gadhafi's personal guard in the first car of their convoy.
"I had agreed with the fighters (who captured Saif al-Islam) that the best place for the ambush would be in desert surrounded by high ground," he said.
Ten fighters from Zintan, in the Western mountains, and five from Hotmani's own tribe, al-Hotman, were waiting.
"When we arrived at the dark, deep hollow the gunfire was very precise, it only took about half a minute to capture the first car," he said, adding that he had told Saif al-Islam's convoy to have the vehicles spaced 3 kilometers apart. This gave the fighters time to regroup and for Hotmani to join them.
"When the second car arrived, we fired very precisely, to damage the vehicle so he could not escape."
Saif al-Islam, dressed in a long robe and a brown head scarf wrapped around his face, jumped out of the car, tried to run, but was captured, says Hotmani. "We treated him as a prisoner of war."
The Saharan nomad, who calls himself the "son of the desert", refused to give details on when or how he contacted the 15 fighters of the interim government who caught Saif al-Islam. But he said he had feared for his safety.
"I'm sure (Saif al-Islam and his guards) were planning to execute me when we reached the border. They had two handguns, two grenades, a knife and handcuffs," said Hotmani.
Hotmani said the younger Gadhafi, who had lost his father and three brothers in a revolutionary war that ended his family's rule, was in denial.
"Saif was dreaming of leaving Libya and then eventually return," he said.
The fighters' commander, Al-Ajami Ali al-Ateri, said that on the plane which took him to Zintan, a calm Saif al-Islam asked if Hotmani had tipped them off.
Editor:Zhang Jianfeng |Source: Shanghai Daily