BEIJING, Nov. 24 (Xinhuanet) -- Travel blogger Guo Ziying stands in front of a 100 strong group of listeners, warmly recounting a few highlights of his worldly travels. He often pauses to smile, a smile where the corners of his mouth quirk upwards in amusement, a smile which his audience clearly finds contagious. His face and energy both emanate youth, regardless of his years.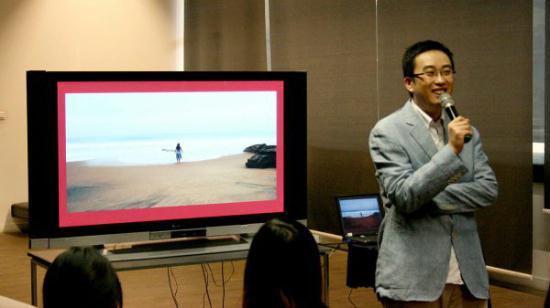 Travel blogger Guo Ziying stands in front of a 100 strong group of listeners, warmly
recounting a few highlights of his worldly travels. [Photo:CRIENGLISH.com]
'The Best Times are on The Road' is Guo's new book. It chronicles his traveling experiences, his crisp photos complimenting the text. Guo is well aware that he has been fortunate in having had the opportunity to travel to more than forty countries across the globe. (He worked as a journalist and in the travel industry for a decade or so, and traveled independently as well)
Indeed, as China develops and more Chinese citizens exit the country's borders, general interest in what lies outside continues to grow. This thirst is particularly evident during the Q and A period of Guo's talk; an uncountable number of hands consistently stretch towards the ceiling as people vie for the chance to ask Guo a question. Eyes gazing upwards, Guo philosophically muses about his experience. "Travel is based on change, on difference, on distance. Distance between your own culture and another totally different culture. It [forces you to] get through."
The book draws from his extensive blog writings which also have a strong focus on his photography. Guo shoots everything from idyllic landscapes to wildlife to life's overlooked curiosities. But mainly he is drawn to people. The bright colours of Guo's photos are about nothing less than vibrancy of life itself. His subjects' expressions and postures always reveal something about one's inner life.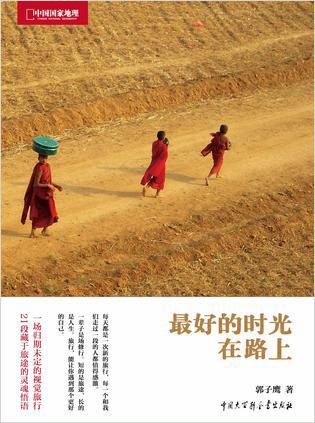 Cover picture of Guo Ziying's Book "The Best Times
are on The Road"
Guo's photos shape his experiences, but he also shapes them. In fact, he bluntly states that his pictures do not reflect reality. He finds himself particularly drawn to images of beauty and happiness. He believes he can create a kind of Shangri-La this way. Images of poverty and pain are best left to other photographers, he says.
In fact, his camera is such an integral part of his experience, that traveling without it is refreshing. The one time he had his camera and wallet stolen, he was able to enjoy new freedom to focus on meeting people and viewing the world without the aid of a camera lens. "There is a Chinese saying: when you lose your horse, it can be a good thing," he quips.
Indeed, changing one's perspective is one of his reasons for traveling. Every place he's seen has given him some new perspective. Before, his impression of the world came largely from his middle school geography classes, the content of which--he believe--was far too limited. He and his peers had no idea that someday they could personally visit the very places which they were studying. With comical boldness, Guo states that it could be best to throw away the contents of those oversimplified lessons. "Most of us have gotten away from those middle school geography lessons," says Guo, with a hint of pride. "We have to learn it ourselves. From our travels."