The conference is the first time the Chinese solar cell companies speak to the domestic media together since the US investigation started. Back in October, some US solar panel makers are accusing China of flooding the American market with cheap solar products.
On Novmber 9th, the US Commerce Department held an initial hearing and then announced it was launching an investigation into the Chinese companies.
Touring a solar panel manufacturing plant in Colorado, US Energy Secretary Steven Chu acknowledges US solar manufacturers are facing stiff competition from Chinese companies.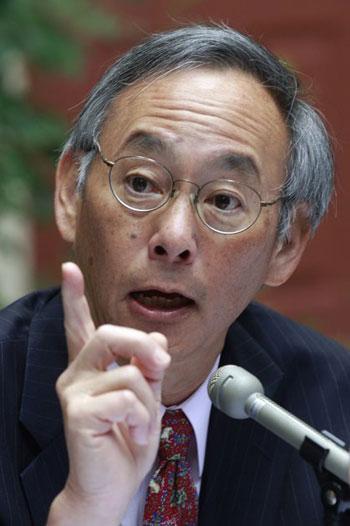 U.S. Energy Secretary Steven Chu
Steven Chu, US Energy Secretary, said "Because of this huge market and huge market potential, countries around the world are lining up, they want to be the suppliers to the world of this market. China in particular sees this as an economic opportunity."
Chu is under pressure following the bankruptcy of solar manufacturer Solyndra, which collapsed despite receiving more than 500 million dollars of government cash.President Obama even visited Solyndra's headquarters in California to tout the company as an American leader in renewable energy technology.
But even before Solyndra's demise, several other large US solar panel makers had declared bankruptcy.And following calls from solar industry leaders in the US, the Commerce Department in Washington is looking into claims that China is dumping solar panels on the US market at prices American companies can't match.
Steven Chu, US Energy Secretary, said"They're investigating 'what are the business practices of China, are they violating WTO agreements?'"
Some American solar makers say Chinese government subsidies are allowing Chinese companies to under-cut US competitors. There have been calls for US tariffs on Chinese solar imports to stem recent dramatic declines in the price of panels in the US market.
Professor Mike Miller, UNIV. of Colorado Denver's Global Energy Management Program, said "Global production of Chinese sourced panels has escalated significantly. Less than 5 or 6 years ago they were 5 percent of global production. Today they represent about 60 percent. So it's had a major impact."
The Chinese solar industry strongly rejects claims that it's not playing by the rules. And some US proponents of renewable energy are wary of imposing sanctions that might slow the up-take of solar in the United States.
Energy Secretary Steven Chu says US solar manufacturers should focus on research and development as a way to compete with China.
Steven Chu, US Energy Secretary, said "It's very important that we stay in this game. Is it game we can stay in, is it a game we can win? And I believe absolutely, because what I see in innovative companies like this, what I see in laboratories around the country and in national labs, I see the highest levels of innovation happening still here in the United States. And this innovation leads to higher efficiencies, lower costs and much more competitive markets."
Professor Mike Miller, UNIV. of Colorado Denver's Global Energy Management Program, said "The Chinese have worked very hard at achieving low cost production, first with the aid of local governments, and more recently, as they come down the manufacturing learning curve, extra volumes drive increased cost efficiencies. So I think it's a function of their dominance in the market right now."
Here in Colorado, the outcome of the Commerce Department probe will be watched closely. There are more than a thousand businesses involved in the solar industry in the state, employing more than six thousand people. Any decision made in Washington effecting the solar industry is likely to be felt here for many years to come.
Related stories
Editor:Zhang Hao |Source: CNTV.CN