In 2006, China passed the Regulation on the Prevention and Treatment of HIV/AIDS, and in 2007, the Employment Promotion Law. Both guarantee working rights for HIV-positive people. But securing those rights remains a challenge.
"Are you willing to work with people with HIV?" The response to this question reflects the public's tolerance of HIV.
A citizen said, "I think it's impossible for me"
Another one said "I would think it's strange at first."
The third citizen said "I show sympathy to those who are infected. But for those who got infected through sex and taking drugs, they need to rethink their own problems."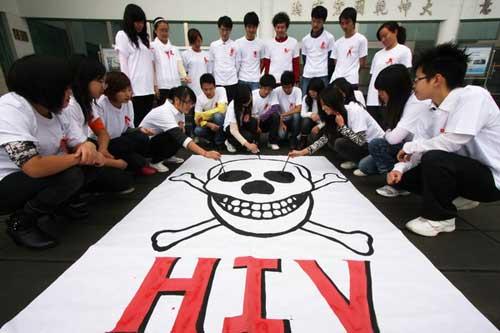 HIV-positive still face job discrimination.


According to a survey in 2007, 65 percent of employers discriminate against people with HIV. Another survey published in the Chinese Journal of Clinical Psychology found that 90 percent of respondents had lost their jobs at least once as a result of their HIV status. Little wonder many people with HIV choose to be silent.
But last year, a college graduate broke the silence. After testing positive for HIV, he was denied a teaching job. He sued the local education department, but his two appeals ended in failure.
Xiao Wu, a private school teacher with HIV, said "I feel helpless and frustrated. Medical treatment has greatly improved. I'm told that with treatment, people with HIV can still live as long as people without this virus. I am very upset that we cannot share equal rights with other people without HIV. We have to live with a mask."
In recent years, China has enacted several laws to protect the right to work for HIV-positive people. But the lawyer who represents Xiao Wu says there are some contradictions in current laws.
Li Fangping, a lawyer, said "Some lower level laws and regulations, such as the now controversial Civil Service Recruitment Criteria, run counter to higher level laws. So now we hope the country can re-examine the legitimacy of the lower level ones. Also, human resources related departments can check on current laws and regulations so the contradictory lower level ones can be sorted out."
After Xiao Wu, several other people with HIV in similar situations also resorted to law. Lu Jun is the co-founder of Beijing Yirenping Center, an institution dedicated to civil health and working rights. He says there are some ways to help protect the privacy of HIV-positive people who want their day in court.
Lu Jun, co-founder of Beijing Yirenping Center, said "They can use pseudonyms. Also, we can help find lawyers to defend the people with HIV free of charge. These lawyers can represent them in court. I believe the concerns of people with HIV can be resolved."
The right to employment is one of the most important rights of any individual. It is closely linked to both well-being and personal development. Though China passed laws to protected laws to protect HIV carriers' rights to work, many HIV-positive employees still experience job-threatening discrimination and stigma.
Editor:Zhang Hao |Source: CNTV.CN