By Yang Ning
BEIJING, Nov. 30 (Xinhuanet) -- Chinese solar manufacturers on Tuesday said that they "have confidence in vigorously defending themselves" in the anti-dumping and anti-subsidy investigations being conducted by the United States into Chinese photovoltaic solar cell companies.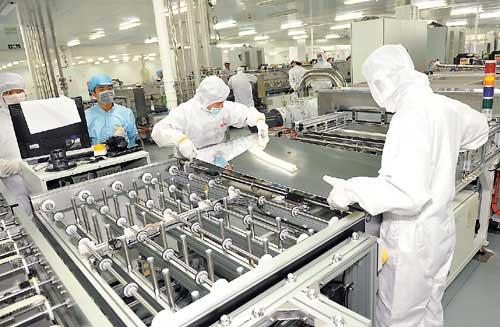 Workers adjust solar battery cells at a production line in Guangdong province.
Chinese solar manufacturers said that they are confident of defending themselves
in anti-dumping and anti-subsidy investigations initiated by the United States.
(Photo source: China Daily)

Representing the country's solar industry, the China Chamber of Commerce for Import and Export of Machinery and Electronic Products (CCCME) said that possible sanctions would "unavoidably cause serious impairment to the sustainable development of the green-energy industries as well as consumers' interests, both in China and the US".
CCCME Vice-President Wang Guiqing said that the Chinese solar industry is an important component of the global solar industry chain, and products from China make a tremendous contribution to the development of the US solar industry and create many jobs in the US.
Last year, the US imported $1.5 billion worth of solar panels from China, up from $640 million in 2009, figures from the US Commerce Department show.
"If the US government imposed any definitive trade restrictions, it would cause significant losses to the upstream and downstream industries and consumers in the US, only to the benefit of a small fraction of US companies such as SolarWorld," said Wang.
In October, the US unit of Bonn-based SolarWorld Industries America Inc and six other US-based solar cell companies filed a petition with the US government, alleging that Chinese companies sell solar panels in the US at unfair discounts and receive government subsidies.
The US International Trade Commission will examine the issue and vote on Dec 5 on whether there is enough evidence that Chinese solar makers are injuring the US solar industry.
The US Commerce Department would then make a decision on duties in January and March.
A coalition of 101 US solar companies opposed the trade case, saying it would threaten tens of thousands of jobs in the US industry. The coalition asked SolarWorld to withdraw the petition, according to a CCCME statement.
A group of China's biggest solar companies, including Suntech Power Holdings Co, Yingli Green Energy Holding Co, LDK Solar Co, plus Canadian Solar Inc, said their commercial success in the US lies in having more advanced manufacturing technologies, efficient management and larger production scales.
Shi Zhengrong, chairman and CEO of Suntech, said the Chinese companies' accomplishments were due to technological progress and policy support, rather than government subsidies.
"Speaking of subsidies, SolarWorld received tax breaks and public subsidies worth $43 million from the US government.
"However, Chinese companies by no means get such subsidies," said Shi.
On Friday, the Ministry of Commerce announced that it had opened an investigation into US government policy support and subsidies for its renewable-energy sector at the request of domestic industry associations, which complained that US measures constituted unreasonable barriers and restrictions on China's renewable-energy industry.
Chinese solar companies said that they are against the few petitioners led by SolarWorld only, not the entire US solar industry. They have no intention of initiating a trade war, said the CCCME statement.
Related stories
Editor:Zhang Hao |Source: Xinhua