LONDON, Nov. 30 (Xinhua) -- British Prime Minister David Cameron late on Tuesday warned Iran of "serious consequences" for failing to protect Britain's embassy staff during an intrusion by angry demonstrators in Tehran.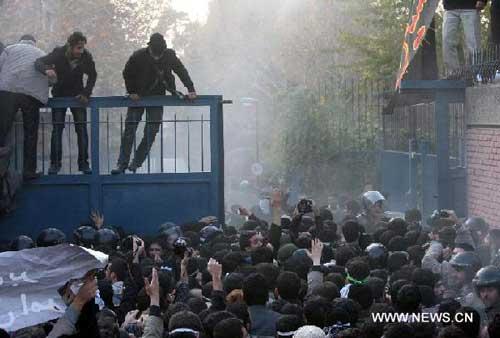 Iranian students try to storm the British embassy in Tehran, Iran, Nov. 29, 2011.
Angry students from Iranian universities Tuesday stormed the British embassy
compound in Tehran and dragged down the British flag. (Xinhua/Ahmad Halabisaz)
"The attack on the British Embassy in Tehran today was outrageous and indefensible. The failure of the Iranian government to defend British staff and property was a disgrace," said Cameron in a statement.
"Those responsible for this criminal attack must be prosecuted," Cameron said, adding that further action would be taken by the British government.
"The Iranian government must recognize that there will be serious consequences for failing to protect our staff. We will consider what these measures should be in the coming days," he said.
Cameron also confirmed that all British staff have been accounted for. He said British Ambassador to Iran Dominick Chilcott and his team "have handled a dangerous situation with calm and professionalism."
Earlier in the day, protesters in Tehran have broken into the British embassy compound during an anti-British demonstration, which came after Iran's decision to reduce diplomatic ties with Britain in response to its newly imposed financial sanction against the country.
British Foreign Secretary William Hague later condemned the attack and blamed Iran for the "grave breach of the Vienna Convention which requires the protection of diplomats and diplomatic premises under all circumstances."
On the Tehran side, the Iranian Foreign Ministry has expressed regret over the storming of British embassy and the ensuing incidents.
A statement posted on the ministry's website said it felt regretted over what it called the "unacceptable" behavior of some protesters in front of the British embassy during the day.
The Foreign Ministry said it respects international regulations concerning the security of diplomatic centers and emphasizes its obligations to ensure the security of diplomats and diplomatic places in the Islamic Republic of Iran.
Related stories
Editor:Zhang Hao |Source: Xinhua