BEIJING, Dec. 5 (Xinhua) -- China's meteorological authority said Monday that heavy fog will continue to cover the country's northern and eastern regions during the morning, creating safety risks on roads and docks, as well as at airports.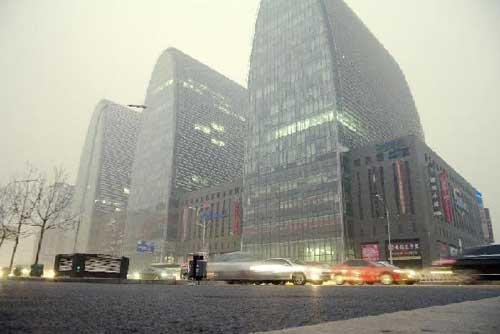 Cars run in fog on a road at Xizhimen, one of the busiest parts of downtown Beijing,
capital of China, Dec. 5, 2011. China's Central Meteorological Station issued on
Monday a blue alert signal for a heavy fog that started to shroud the capital city
and nearby areas the previous day. (Xinhua/Zhai Jianlan)
The National Meteorological Center issued a blue alert early Monday morning, the lowest level in the country's four-scale fog alert system.
Fog and haze will decrease visibility to less than 1,000 meters in eastern parts of north China and most areas in the middle and lower reaches of the Yangtze River, including Beijing, Tianjin and the provinces of Hebei, Shandong, Anhui, Zhejiang, Jiangxi, Fujian and Hunan, the center said, urging people in these regions to drive slowly for safety reasons.
Thick fog disrupted more than 100 flights and closed expressways in Beijing on Sunday.
A source with the Beijing Capital International Airport said the airport was forced to cancel 82 departing flights and delayed another 54 for at least one hour as of 9:30 p.m. Sunday.
Poor visibility also forced several expressways surrounding Beijing to temporarily close, and traffic authorities have warned of extended gridlock in the city.
Related stories
Editor:Zhang Hao |Source: Xinhua