by Yang Lina
BEIJING, Dec. 5 (Xinhuanet) -- With the year end approaching, home purchase limits, part of the tightening policies to rein in runaway property prices, will expire in some of China's cities.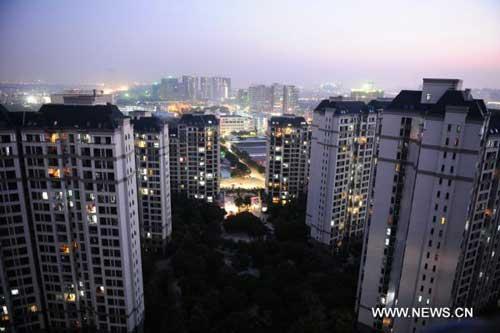 Buildings are seen in Foshan city, south China's Guangdong Province, Oct. 18, 2011.
(Xinhua File Photo)

Analysts said the restrictions should continue till the next year to consolidate the regulation effects on the sizzling housing market.
The Central Government has adopted a slew of measures to curb the runaway housing market, including purchase limits, higher down payments, introduction of a property tax in some cities and construction of housing projects for low-income people.
Since the beginning of this year, the home purchase limits have been extended from first-tier cities, such as Beijing and Shanghai, to second- and third-tier cities.
Among the 46 cities which have implemented restrictions on home purchases, ten cities, including Fuzhou, Xiamen, Haikou, Qingdao and Shijiazhuang, have made Dec. 31 as the expiration date.
China's residential home prices dropped for the third straight month in November, according to a report released by the China Real Estate Index System on Thursday.
This showed that the government's efforts designed to cool the housing market have paid off, and the restrictions on home purchases contributed a lot.
Therefore whether the home purchase limits will be extended till the next year has been a big concern for both real estate developers and potential home buyers, as none of these cities has made a clear stance.
However, recent media reports said that the Ministry of Housing and Urban-Rural Development has informed concerned local governments to continue the implementation of home purchase limits which are due on Dec. 31.
Wang Juelin, deputy director of the policy research center of the Ministry of Housing and Urban-Rural Development, said, "The taming policies can not be loosened and the emphasis should be preventing home prices from rebounding."
He warned that once the home purchase limits are loosened, home prices will see retaliatory rebound, thus aborting the achievements of two-year tight regulation.
Another official with the ministry said on condition of anonymity, "Home purchase limits are among the core measures of this round of regulation on housing market, therefore there is no possibility for loosening in the foreseeable future."
Previously, Foshan city in south China's Guangdong Province became the first one to try to ease limits on property purchases, allowing residents to buy a second house. However, the plan was called off within 24 hours.
Later on, the city of Chengdu in southwest China's Sichuan Province followed suit, but the efforts were in vain either.
The two cities' tentative try indicated the Central Government's unswerving stance on tight regulation on the housing market.
Premier Wen Jiabao said in late October that the government would firmly maintain control over the property market, including restrictions on home purchases and bank loans, even as it seeks to fine-tune other economic policies.
"I will especially stress that there won't be the slightest wavering in China's property tightening measures. Our target is for prices to return to a reasonable level," Wen said.
Vice Premier Li Keqiang also said measures introduced to control the property market are at a "critical stage" and that the government should maintain the curbs during a visit to Hebei Province in late November.
He added that restrictions have started to pay off and the policies need to be continued to consolidate these effects.
Analysts predicted that with the continuation of home purchase limits, home prices will move faster to a turning point and might fall back to a reasonable level in 2012, advising home buyers to wait and see.
Related stories
Editor:Zhang Hao |Source: Xinhua