YAOUNDE, Dec. 5 (Xinhua) -- Cameroon Prime Minister Philemon Yang held talks with visiting Chinese State Councilor Liu Yandong here on Monday on strengthening cooperation between their two nations.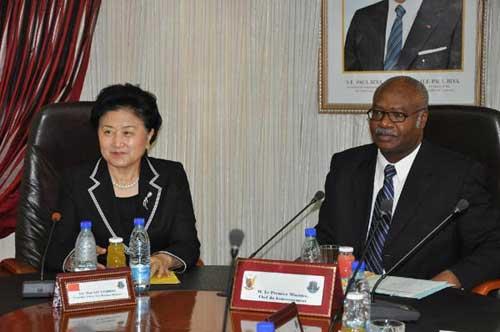 Cameroonian Prime Minister Philemon Yang (R) meets with visiting Chinese State
Councilor Liu Yandong in Yaounde, Cameroon, Dec. 5, 2011. (Xinhua/Liu Fang)
Philemon Yang said that Cameroon and China have a relation of sincere friendship and a close partnership. The two countries have gained fruitful cooperation in economy, trade, health, agriculture, infrastructure as well as culture.
Yang said his country is grateful to China for its long-time assistance and trade environment for Cameroon.
Cameroon would like to work together with China to further cement their cooperative partnership guided by the principle of equality, mutual respect and mutual benefit, said the prime minister.
Liu said the frequent high-level contacts, deepened political trust and increased economic cooperation have shown the deepening of relations between China and Cameroon. China would like to make efforts with Cameroon to enlarge fields of cooperation to bring their friendship relations of cooperation to a new height.
Liu said the people-to-people and cultural exchanges have been important part of relations between the two countries. In recent years, the two sides have conducted wide range of exchanges and cooperation in visiting art performance, language teaching, personal training and academic exchanges, she said.
Liu suggested the two sides implement the cultural agreement and encourage long-term university cooperation. China welcomes scientists of Cameroon to work with their Chinese counterparts in the China-Africa science and technology partnership program.
The Chinese State Councilor further said that the agreement reached at the 4th ministerial conference of the China-Africa Cooperation Forum has been effectively implemented.
China would make joint efforts with African nations to promote their new strategic relations of partnership on the basis of political trust and equality, economic cooperation and cultural exchanges, said Liu.
Both Prime Minister Yang and State Councilor Liu attended the signing ceremony of cooperation agreements between the two countries.
Editor:Zhang Hao |Source: Xinhua