WASHINGTON, Dec. 5 (Xinhua) -- U.S. Republican presidential contenders Newt Gingrich and Mitt Romney are the only two candidates that a majority of Republicans consider as "acceptable" presidential nominees from their party, a new national poll showed Monday.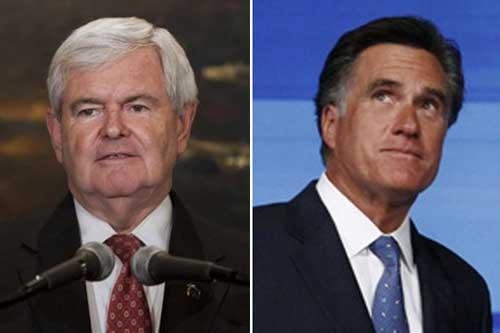 Combo photo shows U.S. Republican presidential contenders Newt Gingrich (L) and
Mitt Romney. (Xinhua Photo)
Sixty-two percent of Republicans and Republican-leaning independents see Gingrich, the former Speaker of the House of Representatives, as an acceptable nominee, with 34 percent finding him unacceptable, according to the Gallup poll conducted from Nov. 28 to Dec. 1, shortly before Herman Cain's departure from the race.
Fifty-four percent find Romney, a former Massachusetts governor, acceptable.
The other six candidates -- Texas Governor Rick Perry, Congresswoman Michele Bachmann, Congressman Ron Paul, former U.S. Ambassador to China Jon Huntsman, former Senator Rick Santorum and Cain -- are seen as unacceptable nominees by a majority of voters.
The survey underscored the fact that as the race for the GOP nomination enters the final month before actual voting begins on Jan. 3 in Iowa, the race has narrowed down to a two-man showdown between Gingrich and Romney.
Riding on strong debate performances, Gingrich recently soared to the top spot in major opinion polls. Cain's departure reinforced his momentum as many supporters of the former Godfather's Pizza CEO turned to Gingrich. Both candidates are seen as alternatives for anti-Romney conservatives.
The survey also showed that Gingrich enjoys a wider lead over Romney among Tea Party supporters. Eighty-two percent of Tea Party supporters said Gingrich is acceptable, while 58 percent backed Romney. Meanwhile, Romney has a slight lead over Gingrich among moderate and liberal Republicans, with 51 percent to 48 percent.
The results highlighted Romney's weakness among conservative voters, who have largely denied their support to Romney from the outset of the race. This can be seen from Romney's poll numbers, which were mostly capped at 25 percent, suggesting that the remaining 75 percent do not like him and want to vote for someone else.
The choice for a non-Romney candidate oscillated several times between Bachmann, Perry and Cain, and now Gingrich is the most popular. The rapid surge and fall of Gingrich's predecessors led many to doubt whether his recent rise is sustainable and whether he can finally beat Romney.
However, there are reasons for Romney to take Gingrich seriously, particularly given the fact that conservatives have run out of choices for a non-Romney candidate.
Related stories
Editor:Zhang Hao |Source: Xinhua