The 2011 Capitol Christmas Tree is seen after it was lit by United States House Speaker John Boehner and 7-year-old Californian boy Johnny Crawford at the West Lawn of the Capitol Hill in Washington D.C. Dec. 6, 2011. (Xinhua/Zhang Jun)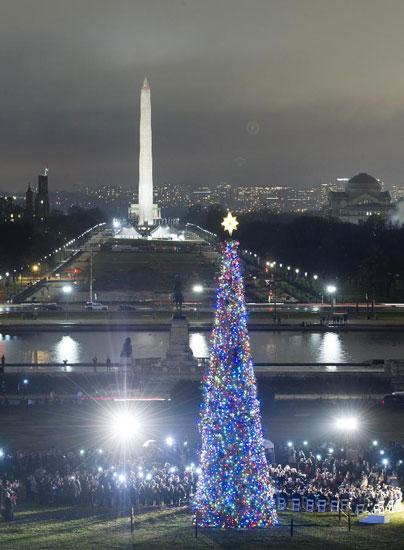 The 2011 Capitol Christmas Tree is seen after it was lit by United
States House Speaker John Boehner and 7-year-old Californian boy
Johnny Crawford at the West Lawn of the Capitol Hill in
Washington D.C. Dec. 6, 2011. (Xinhua/Zhang Jun)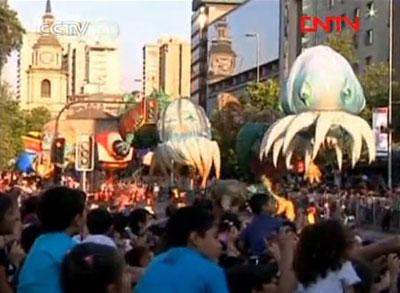 Chile enjoys Christmas parade.
With Christmas just a few weeks away, some folks in Chile have enjoyed a holiday season parade. The country's capital city of Santiago was overwhelmed with huge floats and hundreds of thousands of joyful spectators. Watch Video
Golden Christmas Tree greets season in Tokyo
A two million dollar golden Christmas tree goes on display in Tokyo
for the Christmas holiday season on Tuesday.
The Golden Christmas Tree made from 12 kilograms of pure gold was unveiled at Ginza Tanaka jewelry store. Known for its lavish promotional tie-ups with designers and corporations, this year's holiday season saw the jewelry company working with renowned Japanese flower arrangement artists for the one-of-kind Christmas tree. Watch video
Chennai's cake mixing ceremony for Christmas
Guests and celebrities have been mixing it up at a Christmas cake
ceremony in India's southern city of Chennai. The event, which was
attended by scores of visitors, is held annually in the run up to
Christmas.
Guests and celebrities have been mixing it up at a Christmas cake ceremony in India's southern city of Chennai. The event, which was attended by scores of visitors, is held annually in the run up to Christmas. Watch video
Giant Christmas tree in Rio de Janeiro lit up
A giant Christmas tree is pictured on the lake
of Rodrigo de Freitas in Rio de Janeiro,
Brazil, on Nov. 26, 2011.(Xinhua/Weng Xinyang)
A giant Christmas tree is pictured on the lake of Rodrigo de Freitas in Rio de Janeiro, Brazil, on Nov. 26, 2011. The giant tree, which is 85 meters tall and decorated with about 3.3 million light bulbs, is lit every year before Christmas. More photos

Related stories