Many Chinese milk consumers said they will stop purchasing Japanese Meiji products after the company said that radioactive cesium was discovered in their infant milk powder on Tuesday.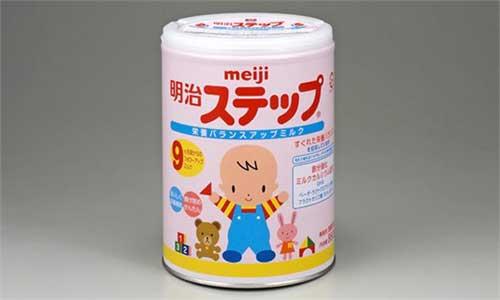 Japan's Meiji Holdings began recalling 400,000 cans of infant milk powder, contaminated
by radioactive cesium, on Tuesday. Photo: Courtesy of Japan's Meiji Holdings.
"I was supposed to ask my aunt to purchase some Meiji milk powder products in Japan because of the high quality," a pregnant Beijing resident told the Global Times on Wednesday.
"But I do not plan to buy their products and will purchase American or Dutch milk powder instead," she said, adding she would not purchase any Japanese food either as it might also be contaminated with radiation.
She also said that one of her relatives, whose child drank the contaminated milk, was extremely nervous about the physical harm which could come to her child.
Separately, numerous Sina microbloggers also expressed their concern over other Meiji products, such as Meiji chocolates.
"Are Meiji chocolates also contaminated since its milk products are polluted?" asked one Web user named "Shenshenzhou" who posted the message Wednesday on Sina Weibo, China's Twitter-like service.
Meiji said on Tuesday that up to 30.8 becquerels (a unit of radioactivity) per kilogram were found in the milk powder and it has started recalling 400,000 contaminated cans, which were only sold in Japan with an October 2012 expiration date.
A huge number of Chinese consumers purchased Meiji milk via online sales dealers and expressed their concerns over whether their product could also be recalled by the company.
Xu Xia, who works in the marketing department at the Meiji Dairies Cooperation in Shanghai, told the Global Times on Wednesday they did not receive any news from the company's headquarters whether the contaminated products purchased online by Chinese consumers will be recalled.
However, customers can directly send back the recalled products to the Saitama Factory?Co, Ltd, a manufacturer?of Meiji in Saitama, Japan, for a replacement, according to Meiji's website, which did not say whether or not any of the items bought by their Chinese customers will experience a recall at some level.
The Yangtze Evening News reported on Tuesday that all contaminated Meiji milk products have been removed from taobao.com, one of China's most famous B2C platforms. And those who purchased the contaminated products can ask for a refund from the sales dealers according to their order numbers.
Xie Jianing contributed to this story.
Related stories
Editor:Zhang Hao |Source: People's Daily