From cliffside strips to sea ice runways—these breathtaking, heart-stopping runways may render your holiday flights cushy by comparison.
NO.7 Barra Airport, Scotland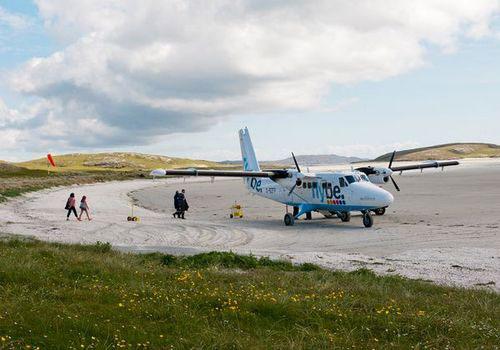 Barra Airport, Scotland [SJ Images/Alamy]
Pilots bound for the Scottish isle of Barra must review all the standard reports of weather and air traffic but also keep an eye on a rather unusual factor—the tide chart.
This Outer Hebrides airstrip may be the only one in the world where regularly scheduled commercial flights touch down and take off on a beach. One of the three Barra runways—the cockleshell strip known as Traigh Mhor—is underwater, and off-limits, at high tide.
For some people, such unique airports are travel destinations in their own right. "Aviation geeks like me," Wilson said, "tend to seek these places out."