BEIJING, Dec. 19 (Xinhua) -- Chinese Vice Premier Zhang Dejiang on Monday urged the country's centrally administered state-owned enterprises (SOEs) to maintain "stable and relatively fast" growth as the slowing economy weakened their profits.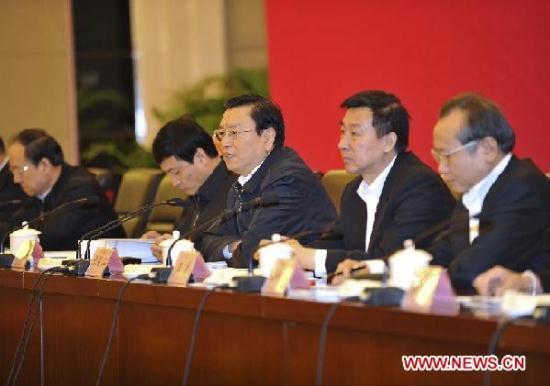 Chinese Vice Premier Zhang Dejiang (C) speaks during a meeting of the central state-owned
enterprise (SOE) leaders, in Beijing, capital of China, Dec. 19, 2011. (Xinhua/Wang Ye)
Central SOEs should "make it a priority to maintain stable and relatively fast growth ... and prevent big fluctuations in production and operations," Zhang said during a meeting of central SOE leaders in Beijing.
His remarks came after China's central SOEs reported a 3.6 percent year-on-year increase in net profits for the first 11 months of 2011, a dramatic drop from the 50.1-percent surge recorded in the same period of 2010.
Next year will be a tough one for these companies as the global economic downshift and higher commodity prices will weigh on their profitability, Wang Yong, director of the State-owned Assets Supervision and Administration Commission (SASAC), said Monday.
Zhang told the central SOEs to foster strategic emerging industries, advance restructuring and innovation and deepen corporate and share-holding reforms.
The companies should also open up more and better manage and guide their overseas subsidiaries or branches to play a leading role in the country's strategy of "going global," he said.
The SASAC, China's SOE regulator, ordered central SOEs to improve their ability to avoid legal risks in a circular on Monday.
The companies must basically put an end to major legal disputes resulting from their own illegitimate acts within three years, the statement said.
Business revenues for the country's centrally administered SOEs accounted for approximately 42 percent of China's gross domestic product last year, while the taxes they paid accounted for about 17 percent of the country's total fiscal revenue, official data showed.
China currently has 117 central SOEs.
Related stories
Editor:Zhang Pengfei |Source: Xinhua