MANILA - Nearly 1,000 were killed when flash floods and land slides caused by Typhoon Washi swept through riverside and coastal villages in the southern Philippines late last week, the national disaster agency said on Tuesday.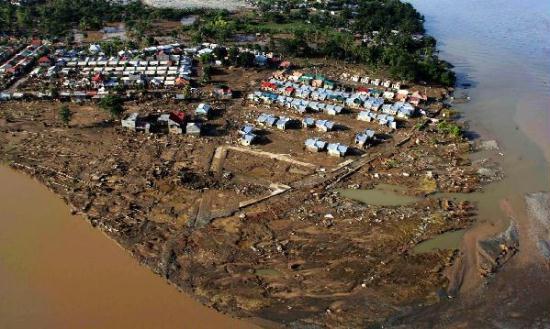 An aerial view shows damage caused by floods following Typhoon Washi in Iligan City, in
the southern island of Mindanao December 19, 2011. Disaster agencies on Monday rushed
to deliver body bags, food, water, and medicine to crowded evacuation centres in the
southern Philippines as officials considered digging mass graves for hundreds killed in
weekend flash floods.[Photo/Agencies]
The agency said 957 were killed and 49 were missing, with most of the casualties coming from the cities of Cagayan de Oro and Iligan. The previous death toll was 650.
Authorities in the two cities, worst-hit by water, mud and logs swept down mountains, are struggling to prevent disease from spreading in crowded evacuation centres and have started digging mass graves to bury decomposing bodies.
President Benigno Aquino will visit the two cities later on Tuesday. The government said more than 338,000 people were affected by the disaster.
Related stories
Editor:Wang Chuhan |Source: China Daily