By Chen Jia and Liu Jie (China Daily)
CHICAGO/BEIJING - Multinational medical device and technology provider GE Healthcare, a division of General Electric Co, said it plans to employ another 200 Chinese engineers next year to support local research and development (R&D) work, along with a higher investment budget, to further expand its market share in second- and third-tier cities.
"The increase in the number of engineers in the coming year will be the same as that this year," said Rachel Duan, president and CEO of GE Healthcare China.
Duan said that more than 40 new products are scheduled to be introduced to China in the next three years, with 80 percent to be sold to local hospitals and clinics.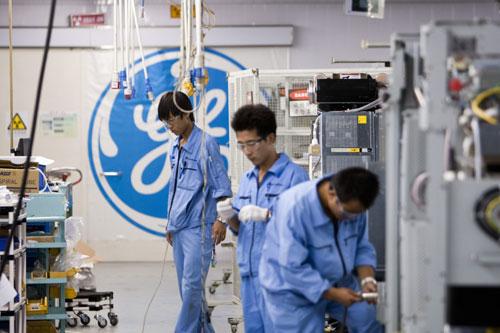 Employees at a production facility of General Electric Co healthcare unit assemble
medical magnetic resonance imaging devices in Beijing. [Photo/Bloomberg]
In 2011, the US-based company launched 10 new products that were customized for the Chinese market, including a portable ultrasound system and magnetic resonance apparatus.
R&D investment in China next year is likely to account for as much as 8 percent of the year's local sales revenue, Duan told China Daily.
"Investment in China is expected to increase faster because the industry may grow by over 20 percent a year in the next couple of years, mainly thanks to the rapid business expansion in smaller cities," said John Dineen, president and CEO of GE Healthcare. He declined to disclose the exact investment amount.