BEIJING, Dec. 28 (Xinhua) -- The Ministry of Public Security (MPS) vowed to tighten security checks and strengthen crackdowns on train ticket scalpers to ensure the safety of hundreds of millions of travelers during the upcoming Spring Festival.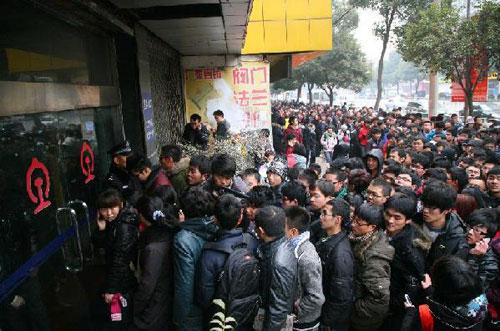 Students queue up to buy train ticket at a ticket booth in Nanjing, capital of east
China's Jiangsu Province, Dec. 28, 2011. The Nanjing railway department started to
sell the student tickets for the spring travel rush on Wednesday. The 40-day spring
travel rush of 2012 begins on Jan. 8, during which tens of millions of migrant
workers and college students rush home for family reunions. (Xinhua)
Local police have been urged to maintain the order of various stations, especially those adopting the real-name ticket selling system, and increase the scrutiny of inflammable cargo, according to a statement released Wednesday by the ministry.
The supply of railway tickets during travel peaks often fails to meet demand, and scalpers take advantage of this by hoarding tickets through various means and reselling them at much higher prices.
To alleviate the situation, China's railway system will carry out an online ticket-booking system and a real-name ticket purchasing system for this year's travel rush, which requires passengers to provide their ID numbers when buying tickets during the peak travel season.
The MPS statement urged police nationwide to focus on illegal deeds, such as forging fake documents and train tickets, and ordered them to be ready to handle crimes and emergencies, especially around stations.
The Spring Festival, which falls on Jan. 22 this year, is the most important traditional Chinese festival for family reunions.
It is estimated that a record 235 million trips will be made by railway nationwide during this year's peak period from Jan. 8 to Feb. 16.
Related stories
Editor:Zhang Hao |Source: Xinhua