YANGON, Dec. 29 (Xinhua) -- Myanmar's state radio and television-4 reported Thursday afternoon the before-dawn violent warehouse blast caused by fire in Yangon which killed 17 people including five women and five firefighters.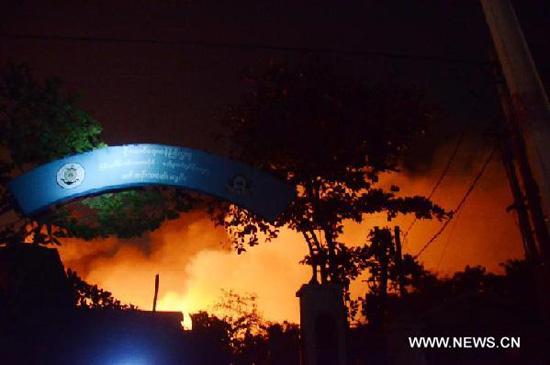 People gather around a warehouse where an explosion happened in Yangon environs Mingalartaungnyung township, Myanmar, on Dec. 29, 2011. (Xinhua/Jin Fei)
In the deadly incident, 123 people including 89 local residents and 46 firefighters were also injured.
The loud and earthshaking explosion in the privatized Myitarmon warehouse in Katoeseik ward in Mingalataungnyunt township totally destroyed 90 houses and 10 warehouses.
A total of 1,000 people from 150 households were left homeless and were temporarily accommodated in relief camps set up in schools and monasteries, according to the authorities.
The explosion scene lies 5 kilometers east of downtown Yangon and the blast was heard 10 kilometers away from the scene, shaking the whole city.
The explosion took place at around 2:00 a.m. local time shortly after a fire occurred in a warehouse stored with electrical goods. Another nearby warehouse storing medicines caught fire soon after. The explosion was caused by still other warehouses storing chemicals, according to initial assessments.
However, the exact cause of the explosion is under investigation.
The Voice Weekly quoted firefighters as saying in its website that some people died with heads blown off by the blast.
The police authorities determined that it was not an ordinary fire or explosion case and vowed to conduct a thorough investigation.