WEST DES MOINES - The US presidential campaign kicked off in earnest on Tuesday as voters met across this rural state in the first contest to determine a Republican challenger to Democratic President Barack Obama.
At least three candidates had a likely shot at victory -- Mitt Romney, Ron Paul and Rick Santorum -- but an upset was not out of the question in the opening round of a Republican nominating contest that has been marked by volatility.
Iowa's caucuses are known more for weeding out candidates than picking the future president. Finishing in the top spot Tuesday night could provide a big boost in a state-by-state battle that could end up as the most expensive in history.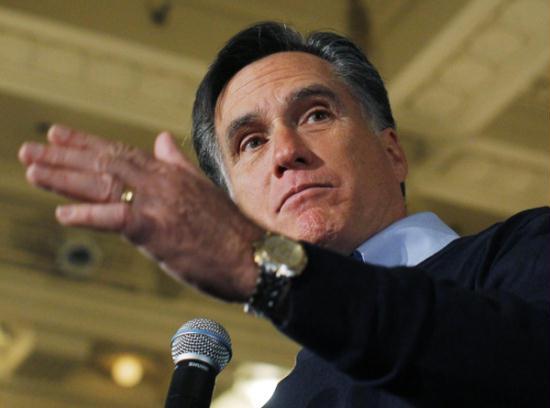 Republican presidential candidate and former Massachusetts Governor Mitt Romney speaks
at a campaign rally in Des Moines, Iowa Jan 3, 2012, the day of the Iowa caucus.
[Photo/Agencies]
Most of the candidates have topped opinion polls at one point in a race that until recently centered on televised debates rather than on-the-ground campaigning.
Polls show Romney, the favorite of the party's business wing, in a tight race with Paul, a US congressman from Texas with libertarian views, and Santorum, a former US senator from Pennsylvania who hopes to consolidate Iowa's large bloc of Christian conservatives. Romney is a former Massachusetts governor.
Many voters remain undecided. The unusual caucus process adds an element of unpredictability. Voters in Iowa gather in public meetings at hundreds of sites around the state such as schools, libraries and churches, listening to speeches touting the various candidates before casting their ballots.
"I'm paying great attention, I just can't decide," said Judy Peters, the owner of an events center where roughly 1,000 voters were due to meet. "There's bits and pieces of each candidate that I like and bits and pieces that I don't."
Outside groups associated with candidates, known as "Super PACs," have taken advantage of loosened campaign-finance rules to flood the Iowa airwaves with negative advertising.
Former House of Representatives Speaker Newt Gingrich has seen his support erode under a barrage of such attack advertisements.
"Poor Newt. I kind of feel sorry for him. He's just been savaged," said voter James Patterson, who said he plans to vote for Romney. "Somebody's really, really mad at Newt."
Gingrich said he would keep his campaign positive.
"You have a chance tonight to send a signal to America," he told voters in Cedar Falls. "You can do that by refusing to vote for anyone who has run negative ads."
More than 100,000 voters - only a small percentage of the state's electorate - are expected to gather across the midwestern state at more than 800 public spots starting at 7 pm CST (0100 GMT). Results should begin coming in within a few hours.
The weather was expected to be fairly cold, but dry, which should boost turnout. Democrats and independent voters will be able to participate if they register as Republicans at the last minute.