BEIJING - The life of Yangtze finless porpoises did not get better in 2011, despite growing public awareness to save the freshwater dolphin.
Population of the endangered species had already dwindled by 6.8 percent a year due to deteriorating water quality, illegal fishing and excessive soil dredging in the Yangtze River, conservationists and scientists found.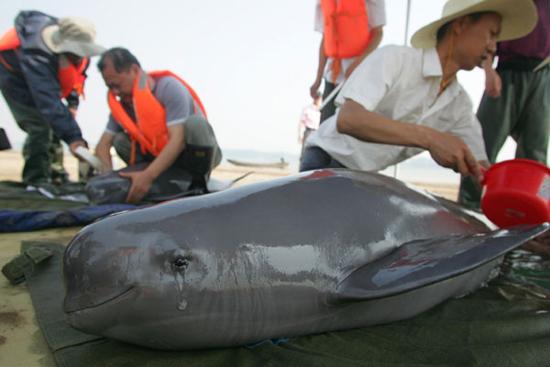 Scientists check a freshwater dolphin in a Yangtze River nature reserve in Shishou, Hubei. The species is at risk of extinction due to deteriorating water quality, illegal fishing and excessive dredging. Gao Baoyan / for China Daily
The freshwater dolphins had a rough summer as their major habitat, the middle and lower reaches of the Yangtze, endured the worst drought in decades. It resulted in extremely low water levels and caused a food shortage for the finless porpoises, which live mainly on small fishes.
Scientists will conduct an annual survey early this month to determine whether the drought has further reduced the animal's numbers.
In 2011, conservationists managed to draw public attention to the once-common Yangtze species through a series of campaigns. They fear that with fewer than 1,800 left, the finless porpoise will repeat the fate of Baiji, the million-year-old Yangtze River dolphin declared extinct in 2006.
Jiang Yong, deputy director of WWF's Changsha office, said more than 500,000 people joined an online campaign to help save the finless porpoises. His organization surveyed more than 3,300 people living in 96 communities along the middle and lower Yangtze, and about 54 percent said they would like to help protect the endangered animal.
However, no major breakthrough has been achieved in lifting the conservation level of the dolphin in 2011. Though the sheer number of finless porpoises is already smaller than that of giant panda, the species is under only Grade II conservation category in China. Grade I is the highest level.
The Ministry of Agriculture has been working on raising the conservation level, and some legislators have also joined the efforts, Jiang said.
During the past year, local governments started to more stringently regulate dredging in branches of the Yangtze, Jiang said. Though originally targeting safety issues, the move did give finless porpoises some relief so they wouldn't be hurt or disturbed by sand scouring from the riverbed.
Editor:Wang Xi |Source: China Daily