SHANGHAI - Roughly five months following the bullet train crash, Song Hua still has trouble drinking water and uttering clear words. She cannot walk on her own. Her face shows no expression.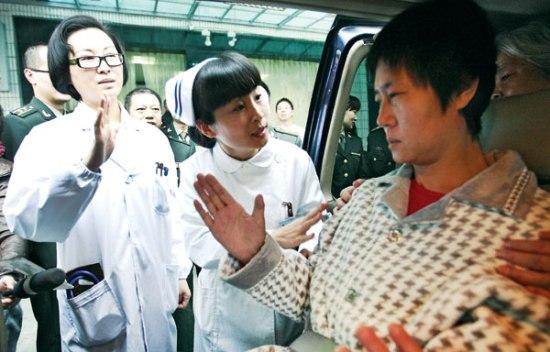 Song Hua waves goodbye to medical staff at No 118 Hospital of the People's Liberation Army in Wenzhou, Zhejiang province, after more than 16 weeks as a patient following the Wenzhou train crash. Wen You / for China Daily
Under a program arranged by the Railway Ministry and the railway bureaus of Shanghai and Shandong province, the 43-year-old has been undergoing free rehabilitation at a care center in Jinan, her hometown in Shandong, since Nov 15. That morning, Song was discharged from the acute-care hospital in Wenzhou where she'd been treated since the July 23 crash that left 40 dead and more than 200 injured.
Her husband, Gao Zhenhua, took a long leave from his job in Fujian province and attends his wife, a mother of two. The family lives on a 200-yuan ($30) daily allowance provided by government.
"Under the direction of doctors, we have been trying to talk to her about how she got injured in the accident," Gao said. "But she could not pick up that part of memory at all." Nor can she remember much of the past two years, he said.
Song was traveling with her 12-year-old son and 9-year-old daughter to Fuzhou to visit her husband when one high-speed train rammed into a stalled train. As she tried to protect the children with her body, she severely injured her head and broke nine ribs as the trio tumbled in the carriage.
The children were slightly hurt. It was weeks before Song woke from a coma in the Wenzhou hospital.
Blame assigned
It was not until Dec 28 that the report of the crash investigation was announced. The main causes of the accident, the report said, were poor management and the mishandling of a lightning strike that crippled equipment that should have averted the crash.
Fifty-four people were removed from their posts or received for some kind of sanction.
The crash, the deadliest in China's booming high-speed train industry, took an additional toll: The ministry placed speed restrictions on high-speed trains, halted construction of some railways and cut its annual rail investment by 15 percent this year, to 400 billion yuan ($63 billion). It also vowed to strengthen management.