NIAMEY, Jan. 4 (Xinhua) -- Visiting Chinese Foreign Minister Yang Jiechi on Wednesday held talks with Bazoum Mohamed, Niger's minister of state in charge of foreign affairs, cooperation, African integration and overseas Nigeriens, on relations between their two countries.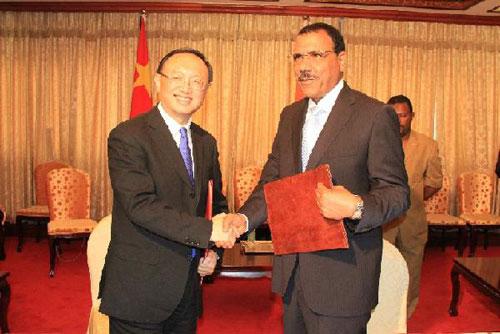 Chinese Foreign Minister Yang Jiechi (L) shakes hands with Nigerien Minister of Foreign
Affairs Bazoum Mohamed after the signing of a cooperation agreement in Niamey, Niger,
Jan. 4, 2012. Yang arrived in Niamey to begin his official visit to Niger on Jan. 4,
2012. (Xinhua/Wang Zizheng)
Yang said that with the joint efforts by both sides, China and Niger have maintained a sound development momentum in communication and cooperation in various fields. Both sides have witnessed increased official visits, as well as pragmatic and efficient economic and trade cooperation. The cultural and people- to-people exchanges are also conducted extensively.
Yang said China is satisfied with the results of bilateral cooperation and is willing to work with Niger to further explore the potential of bilateral cooperation, expand the scope and improve the efficiency of cooperation, so that people of both countries could benefit more from the results of bilateral ties.
Yang called on both sides to increase exchange and communication and put it into practice the agreement reached by the China-Niger Economic and Trade Joint Committee.
Both countries should expand cooperation in such fields as culture, education and health, increase coordination at UN and other multilateral arenas, so as to better safeguard the interests of Africa and developing countries.
On his part, Mohamed said the traditional friendship and cooperation between Niger and China have been developing vibrantly faced with new situation, which are supported by the Nigerien people and enjoy a bright prospect.
He said China is growing as one of the most important development partners with Niger. It serves the common interests of the people from both countries to strengthen Niger-China friendship and cooperation. Niger is willing to push forward its ties with China.
The minister noted that Niger shares the same attitudes and points of view with China on many critical international and regional issues. It is also willing to increase dialogue, coordination and mutual support with China at UN and other multilateral arenas.
The two sides signed agreements on economic and technical cooperation after the meeting.
Yang arrived in Niger on Wednesday for an official visit.
Related stories
Editor:Zhang Hao |Source: Xinhua