With the winter freeze well and truly upon us, why not melt the ice away by luxuriating in a steaming spa? China, with its more than 2,300 hot springs, is a haven for spa lovers in search of a blissful, relaxing spa to transport them away from the stresses and strains of the everyday, freezing winter world.
China's Ministry of Land and Resources has recently released the top 25 spa destinations in China, all of which are endowed with unparalleled high quality hot springs and tantalizing spa environments to provide visitors with a unique and simply stunning experience.
Check out the top 25 spa destinations in China to get a new perspective on winter:
NO.25 Sinan County, Guizhou Province 贵州思南
Yingwuxi Spa Resort in Sinan, Guizhou [163gz.com]
Sinan County is located in western Tongren Prefecture of Guizhou Province, 375 kilometers from the provincial capital city of Guiyang. The county, rich in geothermal resources, boasts 11 hot spring sites in Yingwuxi Town, Xinglong Township, Sandaoshui Township and Tianqiao Township, which produce 12,000 tons of spring water per day. The water is rich in various minerals and ranges in temperature from 40°C to 58°C. There are presently four spa resorts under development: Yingwuxi Spa Resort, Luowantuo Spa Resort, Xinglong Spa Resort and Tianqiao Spa Resort. AS well as enjoying a relaxing spa experience there, you can also marvel at the gorgeous views of both the Sinan Stone Forest and Wujiang River.
NO.24 Hefei City, Anhui Province 安徽合肥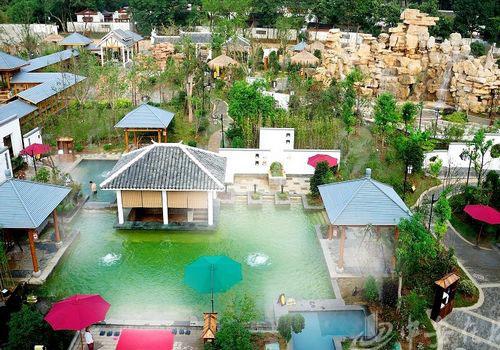 Chaohu Bantang Imperial Spa Resort [baidu.com]
Hefei, the capital city of Anhui Province, is more than just the S&T base and hometown of the much-praised Northern Song Dynasty (960–1127) official Bao Zheng. The city is also famous for its superior mountain spa resorts such as the Chaohu Bantang Spa Resort, Lujiang Tangchi Spa Resort and Chaohu Fragrant Hot Spring Resort. Feidong County and Binhu District have also been found to be rich in geothermal resources.
Lying at the foot of Tangshan Mountain, six kilometers northeast of Chaohu City, Bantang Spa Resort is a Mecca for those seeking therapeutic baths, vacations and relaxation. A hot spring and a cold spring mix here, creating a unique spa experience. With an average temperature of around 55℃, the clear and transparent spring water contains more than 30 minerals which have been shown to have a beneficial effect on health.
NO.23 Lianjiang County, Fujian Province 福建连江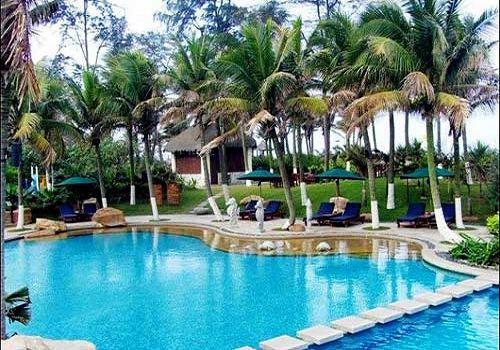 Gui'an Spa Resort in Lianjiang County, Fujian Province [itravelqq.com]
Located northeast of Fuzhou, the capital city of Fujian Province, Lianjiang County is abundant in geothermal resources, and its hot springs are mainly scattered in Gui'an Village of Pandu Township and Daiyun Village of Aojiang Town. Records show that Lianjiang began to utilize the hot spring resources as early as 1057. The Gui'an Spa Resort in Gui'an Village, 28 kilometers from Fuzhou, is famous for its healing spring water, which is rich in beneficial minerals and ranges in temperature from 63℃ to 92℃. Lying by the Aojiang River, the resort area consists of a superb golf course, a hot-spring swimming base, a spa center and a forest park.
NO.22 Gu'an County, Hebei Province 河北固安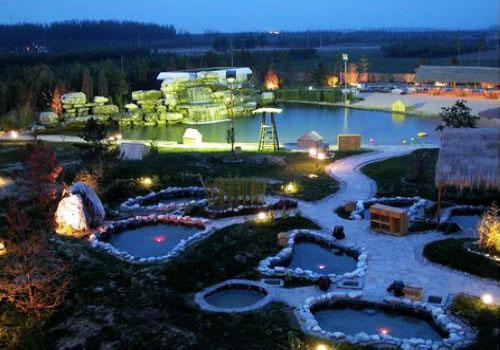 Hot-Spring Swimming Pool at Huayu Spa Resort in Gu'an County, Hebei Province
smbk.hebnews.cn]
Located in Langfang City of Hebei Province, Gu'an County is known as the "First City South of Beijing", only 50 kilometers away from Beijing's Tian'anmen Square. Gu'an is said to have the best development potential of any geothermal-rich field in North China. The core hot spring area lies in Niutuo Town, with its clear, yellowish thermal water (50℃- 88℃) rich in fluorine and metasilicic acid. The geothermal reservation totals 7.6 billion cubic meters.
The county boasts many spa holiday villages and resorts, the most famous of which is the Huayu Spa Resort at Niutuo Town. The resort boasts two hot-spring swimming pools and about 90 indoor and outdoor spa pools with different therapeutic effects. The beautiful landscape and unique spa culture have attracted many tourists who love simply lying back and luxuriating in the year-round warm water while sipping tea made with the slightly-sweet spring water.
NO.21 Bazhou City, Hebei Province 河北霸州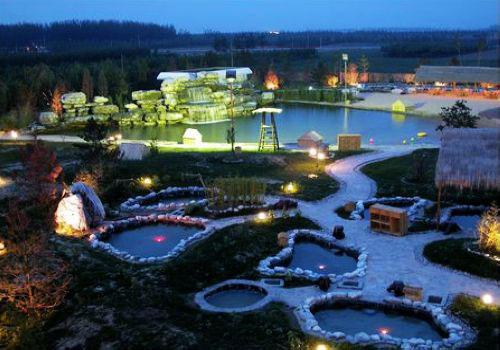 Bazhou Mingtang Spa Resort in Bazhou City, Hebei Province [city.cri.cn]
Located in Langfang City, Hebei Province, Bazhou City is 80 kilometers south of Beijing. The geothermal field in the city covers an area of about 500 square kilometers with a soda-type underground water reservation of 22 billion cubic meters. The Mingtang Spa Resort is the most famous of its type, with the water temperature at the outlet reaching up to 60℃. The resort boasts 108 hot-spring pools, offering bathing, swimming, flower spa, mud spa, herbal spa, and massage services. With a total investment of U.S. $ 1.5 billion, the local government has launched the development of a 28-square-kilometer international spa park.