By Lan Lan (China Daily)
BEIJING - Labor costs are rising rapidly in China but that does not necessarily mean the country will lose its business advantages or that large numbers of jobs will return to Western countries, experts said.
Even with those changes, the country retains its huge market for products and services.
A variety of US companies, including the iconic Ford Motor Co, have been reported to be considering bringing some manufacturing back to the United States. Yet jobs continue to be added in China.
Because of an agreement struck with the United Auto Workers (UAW), a labor union, Ford has announced plans to shift 12,000 jobs back to the US from China, Mexico and Japan in four years.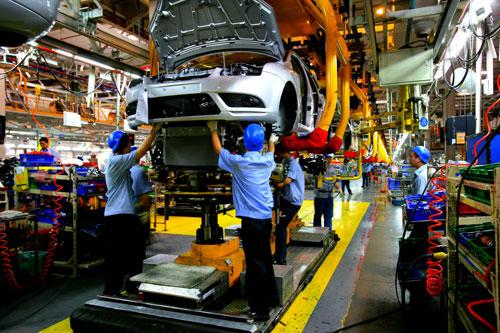 Workers assemble Ford cars on the assembly line at Changan Ford, the joint
venture between Chang'an Automobile (Group) Co Ltd and Ford Motor Co in
Chongqing. [Photo/Provided to China Daily]
Trevor Hale, a China-based spokesman with Ford's Asia Pacific and Africa operations, declined to say how many jobs the company will transfer, saying the plan "refers to a jobs shift from a supplier in China to a component plant in the US".
Meanwhile, he said the company is adding jobs in China, which has been the largest market in the world for automobiles since 2009.
"Ford remains committed to growing in China and, in fact, we will double the number of professional employees we have here by 2015," Hale said.
The company is adding 550 salaried jobs to its wholly owned entities in China in 2011, and it will add another 1,200 by 2015. The automaker also has plans to bring 15 additional types of vehicles to China by 2015.
Over the next four years, the Detroit "big three" - General Motors Co, Ford and Chrysler Group LLC - are likely to add more than 29,000 hourly and salaried employees in the US, according to the US-based Center for Automotive Research.
In recent contract talks with the United Auto Workers, the three carmakers agreed to increase the entry-level wage paid to autoworkers in the United States from about $14 an hour to about $19.28 over the course of a four-year labor contract.
An executive at a leading US automotive supplier in China - who declined to identify himself or his employer - said even though pay is bound to increase in China, labor costs in the country still remain much lower than in the US.
The cost of workers' wages was equal to about 1 percent of the supplier's revenue in China two years ago, and the number doubled to 2 percent in 2011, the executive said.
Moreover, the company expects to see its labor costs increase by 45 percent in three years, he said.
The salary for entry-level jobs in Guangzhou's automotive companies is about 1,800 yuan ($281) a month, roughly $1.70 an hour. The big three, in contrast, offer an entry-level wage of $19.28 an hour.
"Labor productivity is indeed higher in the US, but it is also rising rapidly in China," he said.
In 2011, minimum wages were increased in China to help workers cope with rising prices. In the first three quarters of the year, minimum wages increased by an average of 22 percent from the same period a year before, according to the Ministry of Human Resources and Social Security.
Shenzhen in Guangdong province has the highest minimum wage in China at 1,320 yuan a month. Next in the rankings are Shanghai and Beijing.
"Salary increases are significantly high in China," said Jim Leininger, a Beijing-based executive with the consulting-company Watson Wyatt Inc.
He predicted that most industries in 2011 would have experienced a salary increase of between 10 to 12 percent for local employees who work for foreign companies or first-tier domestic companies.
There can be no doubt that China is becoming a more expensive place to do business. In the past 10 years, salaries in the country have increased on average by as much as 12 percent a year.
But that does not mean companies will stop investing in China, said Leininger, who is also the chairman of the American Chamber of Commerce's human resources forum.
Business people keep coming to China and are still drawn by the country's optimistic economic outlook and large domestic market - not simply its abundant supply of cheap labor, he said.
According to a recent study by the Boston Consulting Group, 2 million to 3 million jobs could be added in the US in the next five years as China's labor costs increase and manufacturing in the US becomes less expensive.
But very few executives and analysts in China agree.
US companies in China say they are confident about their business prospects in the country, the American Chamber of Commerce said in a statement.
About 85 percent of US companies in China reported revenue growth in 2010, according to a survey conducted by the chamber.
"I doubt that many American companies are planning to close down their factories in China and move them back to the US," said Jack Perkowski, founder of JFP Holdings, which helps Western companies bring technology and products to China.
"The reason why foreign companies will not leave China is because the market is here."
He said some makers of cheaper products may want to move their manufacturing operations to Vietnam and other countries where costs are lower than in China. He advised against taking such a step, though, saying it would be better to move to places such as Chongqing, where costs are much lower than along China's coasts.
Li Xiaogang, director of the Shanghai Academy of Social Sciences' foreign investment research center, said patriotic loyalties are unlikely to be enough to prompt a company to move manufacturing back to its home country.
In the first 10 months of 2011, the value of foreign direct investment from the US came to $2.73 billion, which was down 23.05 percent from the year before. That led to concerns about a continued decline in the amount of investments coming from the US
In 2011, fewer investments came to China from the US, a result mainly of US economic troubles.
Editor:Wang Chuhan |Source: China Daily