LANZHOU, Jan. 11 -- A direct flight was launched between the Chinese mainland's far western city of Lanzhou and Taipei Wednesday to meet increasing market demand.
The mainland-based Hainan Airlines operates the new direct air route between Taipei and Lanzhou, capital of Gansu province, with a round-trip flight each week, a company spokesman said.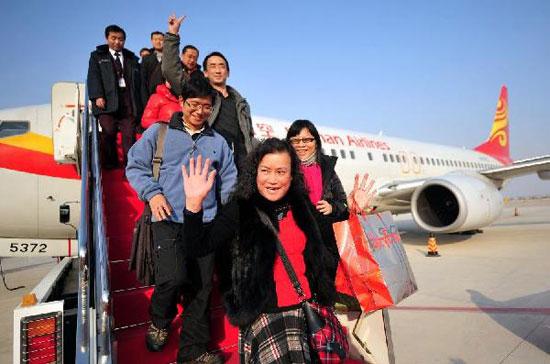 Passengers from Taipei of southeast China's Taiwan wave to camera after arriving at Zhongchuan Airport of Lanzhou, capital of northwest China's Gansu Province, Jan. 11, 2012. A regular direct flight route was opened between Lanzhou and Taipei by the Hainan Airlines on Wednesday. (Xinhua/Zhang Meng)
The flights will be offered until March 24 this year, the spokesman said, without specifying the reason for the given date or whether the company would continue providing the service after that point.
Far Eastern Air Transport, based in Taiwan, plans to launch two direct flights between Taipei and Lanzhou every week, but the date of the maiden flight is yet to be decided, a spokesman with the Gansu Airport Group said in November last year.
This is the first time that flights will be offered between Zhongchuan Airport in Lanzhou and Taipei since the airport was established in 1970.
The regular flights are expected to be popular not only with people in Gansu wishing to travel to Taiwan, but also with people in the neighboring provinces.
Gansu is home to Dunhuang, which boasts the world-renowned Mogao Grottoes and beautiful oases.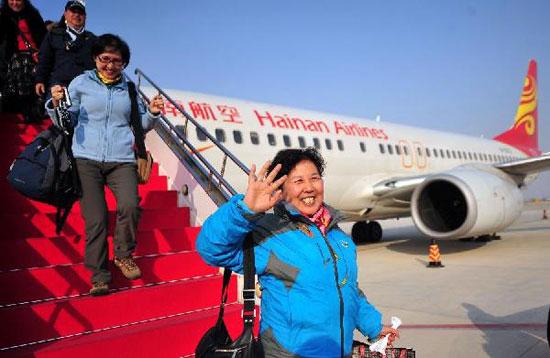 Passengers from Taipei of southeast China's Taiwan wave to camera after arriving at Zhongchuan Airport of Lanzhou, capital of northwest China's Gansu Province, Jan. 11, 2012. A regular direct flight route was opened between Lanzhou and Taipei by the Hainan Airlines on Wednesday. (Xinhua/Zhang Meng)
Related stories
Editor:Sun Luying |Source: Xinhua