SYDNEY - China's Li Na drew on her superior fitness to reach the final of the Sydney International on Thursday with a 1-6 7-5 6-2 victory over Czech world number two Petra Kvitova, who started brilliantly but ran out of steam.
The resilient Li dug deep to recover from a first-set pasting to book a place in the final of an event she won last year and extinguish her exhausted opponent's hopes of becoming world number one before the Australian Open starts on Monday.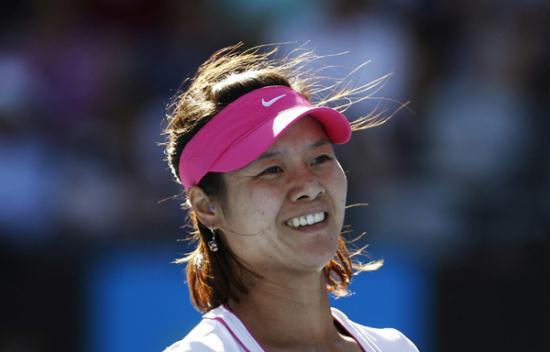 Li Na of China reacts after winning her semi-final match against Petra Kvitova of
the Czech Republic at the Sydney International tennis tournament January 12, 2012.
[Photo/Agencies]
In the other semi-final, world number three Victoria Azarenka of Belarus performed a similar escape act to Li in beating Poland's Agnieszka Radwanska 1-6 6-3 6-2 to qualify for Friday's final.
In a worrying sign before the Melbourne Park tournament that is traditionally a survival of the fittest in the blazing Australian summer heat, Kvitova admitted she had hit the wall in the deciding set.
"I played very well the first set, I was the one making the winners," Kvitova told reporters.
"After that, it was very tough. I was a little bit slower in the moving and she played really well. Now I'm really tired. The next tournament is Melbourne, so hopefully I will be better and not as tired as now."
Kvitova was looming as a strong favourite for the first grand slam event of the season before Li ran her ragged, her fatigue in the later stages of the match suggesting the asthmatic might struggle in day matches in Melbourne.
The Czech was quick to praise her opponent and said Li, benefitting from a four-week fitness camp in Munich during the off-season, deserved to be regarded as highly as any other contender for the Australian Open.
"She is one of us," Kvitova, 21, said.
Li was desperate for answers when husband-coach Jiang Shan ran on to the court to give her advice after Kvitova had steamrolled through the first set.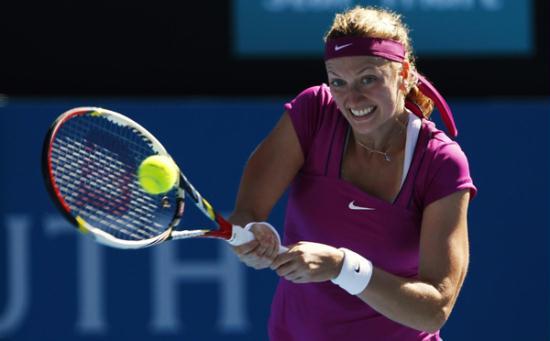 Petra Kvitova of Czech Republic hits a return to Li Na of China during their semi-final
match at the Sydney International tennis tournament January 12, 2012. [Photo/Agencies]
Energy Levels
WTA rules permit coaches to enter the court and talk to their player at the end of each set and Jiang was blunt in his assessment.
"He told me she was playing the ball more flat, more deep and I had no chance to hit the ball back," Li said of her pep-talk with Jiang.
"He said if I continued to play like I had, we could go to the airport after 50 minutes. I'm not joking. He told me to believe in myself and to play the ball deeper.
"If she had continued to play like she had in the first set, what should I do? Give up? I couldn't do anything."
The match took a minute less than two hours to complete and the 29-year-old Li was surprised that she had the higher energy levels at the end.
"I think I'm older, right?" Li said. "So if she was tired - I should be more tired than her."
Had Kvitova won the tournament she would have claimed the world number one ranking from Denmark's Caroline Wozniacki, who was defeated by Radwanska in the quarter-finals.
Wozniacki suffered a wrist injury in her match against the eighth-ranked Pole but an MRI scan on Thursday cleared her of any serious damage.
Azarenka trounced Li 6-2 6-2 in the round robin stage of the WTA Championships at Istanbul late last year but their two other meetings of 2011, both at grand slam events, were won by the French Open champion.
She prevailed 7-5 6-2 in the quarter finals at Roland Garros and was a convincing 6-3 6-3 victor at the Australian Open.
"Terrible memories," Azarenka said of losing to Li at Melbourne Park. "You want to forget those."
Editor:Wang Chuhan |Source: China Daily