By Zheng Xin (China Daily)
BEIJING - As the quality of the city's air continues to give rise to concerns, many NGOs are asking the public to refrain from shooting off fireworks during the coming Spring Festival.
Feng Yongfeng, founder of an environmental protection NGO in the city, encouraged residents to set off fewer fireworks. He said they should take the money they would have spent on pyrotechnics and instead use it to buy the city a PM 2.5 detector - a device that measures the amount of particulate matter smaller than 2.5 micrograms that is in the air.
Ma Jun, director of the Institute of Public and Environmental Affairs, called for the public to replace large fireworks with some that are small and give off less pollution.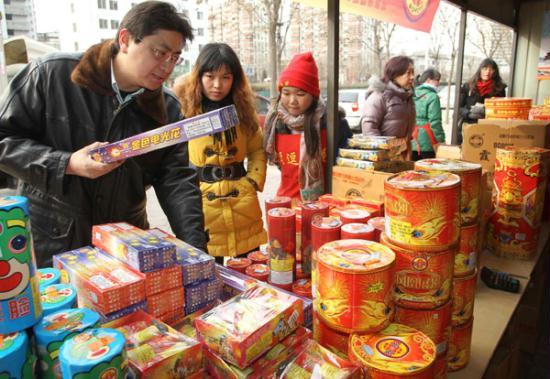 Residents buy fireworks at a store in Guangshun North Road in Beijing on Friday.
[Photo/China Daily]
"Large fireworks contain too much gunpowder," Ma said. "When they explode, they give off too much noise and pollution, especially in crowded cities such as Beijing."
The Beijing administration of work safety said the city this year will have 1,429 firework retail outlets, 20 percent fewer than last year.
During the holiday, emergency medical workers in Beijing will be prepared to monitor the use of fireworks in the city and three helicopters will also be looking for mishaps.
Since 2005, the capital's government has loosened the restrictions it places on the use of fireworks in the capital in the Spring Festival holiday. Even so, firework sellers are not likely to be awash with money this year.
Those within the city's Fifth Ring Road began welcoming their first customers on Friday.
"We can't say whether our firework sales this year will be better or worse since this is the first day we have been selling them," said An Fenglan, 48, a saleswoman at a firework sales outlet in Beijing's Chaoyang district, one of the 533 such places within the Fifth Ring Road.
Feng Shuang, 24, a Beijing resident, said she thinks fireworks are loud and smoky and she has not used them to celebrate the festival in years.
"It's especially annoying when all of the car alarms in this neighborhood are set off by exploding fireworks," Feng said. "That's not what a festival should be like."
Some, though, continue to observe the tradition of setting off fireworks during Spring Festival.
Wang Yu, 26, a Beijing resident, said he bought about 1,000 yuan ($160) worth of fireworks this year and is looking forward to shooting them off on the eve of the holiday.
"Compared with emissions from chemical plants, emissions from fireworks hardly count," said Wang. "This is the only time of the year I can celebrate with some noise."
An said with or without air pollution, fireworks will remain a traditional part of Spring Festival - one that many people, the elderly perhaps above all, are reluctant to do without. He said it is a common belief that pyrotechnics can drive away bad luck and draw in good.
"Some people have come just to buy the biggest firework possible," An said. "They take that as being a symbol of their identities."
Whatever benefits may come from large fireworks, experts say they are dangerous.
"Fireworks, if they do not burn well enough, will release tremendous amounts of harmful pollutants, including carbon monoxide and particulate matter," Wang said. "Even after they are burned, the metal particles in the smoke they release are harmful to the people who breathe them."
According to an experiment conducted by the Beijing Municipal Environmental Monitoring Center and Minzu University of China, the concentration of PM 2.5 in the city increases to almost 800 micrograms for every cubic meter of air on Chinese New Year's Eve, the day when the greatest number of fireworks are set off in celebration of the holiday.
That is 80 times higher than what is deemed safe by the World Health Organization.
At such times, even those without respiratory conditions may feel discomfort when they breathe. And those with chronic conditions might be at risk of losing their lives, said Zhang Lianguo, director of Xuanwu Hospital's respiratory department in Beijing.
Editor:Wang Chuhan |Source: China Daily