LOS ANGELES - Police combed the hills below the famed Hollywood sign for more human body parts Thursday as the mystery deepened surrounding the discovery there of a severed human head, feet and hands.
Authorities believe the decapitated head and other body parts came from the same victim.
The head, hands and feet were found separately this week in the same area of the 4,200-acre Griffith Park, near hiking trails and not far from the landmark Griffith Observatory.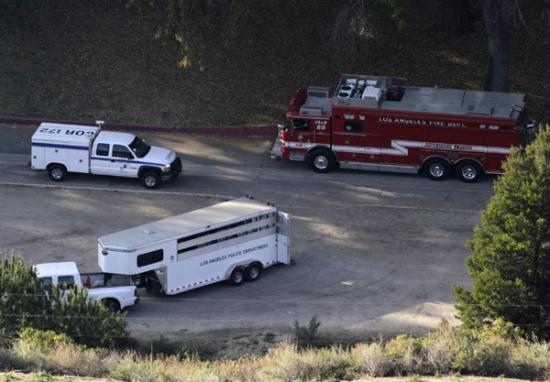 LAPD, Los Angeles County Coroner, and Los Angeles Fire Department officials search a
hilly area below the iconic Hollywood sign in Los Angeles, California Jan 18, 2012.
[Photo/Agencies]
Los Angeles County Coroner's officials have yet to identify the apparent murder victim, a man of undetermined ethnicity believed to be between the ages of 40 and 60. Police have been unable to say how he died or came to be dismembered.
More than 100 law enforcement personnel including detectives, crime scene investigators and cadets from the Los Angeles Police Academy picked through a seven-acre swath of the park on Thursday before concluding the search at nightfall.
Los Angeles Police Commander Andrew Smith said no more body parts were found on Thursday and that a section of the park shut down for the operation would reopen on Friday.
Smith said detectives were "diligently" working other clues and hoped to get a break when coroner's investigators identified the victim, based on fingerprints or dental work.
Investigators were checking reports that a body had been found in Arizona missing a head, hands and feet, he said, but considered it unlikely the two cases were connected.
"It's fairly implausible that somebody would drive parts of a dead body five hours from Arizona to our Griffith Park," Smith said.
He said there was also no evidence the man was the victim of organized crime or a serial killer.
Two women walking dogs came across the head in a plastic bag on Tuesday and reported it to park rangers.
The hands were found on Wednesday, separately but in the same general area as the head, one by a cadaver-sniffing dog and the other several hours later by a crime scene investigator.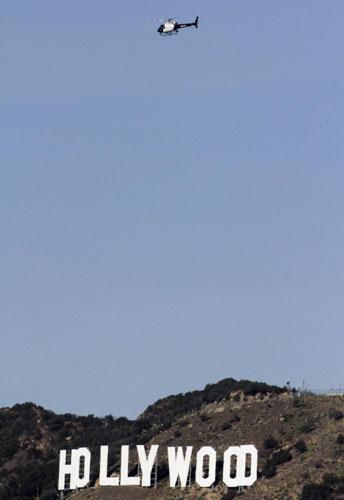 A Los Angeles Police helicopter searches an area near
the Hollywood sign where dog walkers discovered an
unidentified man's head on Tuesday in Los Angeles,
California, Jan 18, 2012. [Photo/Agencies]
Later on Wednesday a coroner's investigator discovered the feet, which were together in the same vicinity.
The iconic Hollywood sign on Mount Lee above Los Angeles was built in the 1920s to promote a housing development and originally read "Hollywoodland."
The last few letters deteriorated in the 1940s and the portion that remained was restored in 1978.
Griffith Park, which sits in the hills above metropolitan Los Angeles, is the largest municipal park with an urban wilderness area in the United States, according to a city website.
Editor:Wang Chuhan |Source: China Daily