by Xinhua Writer Wang Fengfeng
COLUMBIA, the United States. Jan. 20 (Xinhua) -- Four remaining U.S. Republican candidates on Friday crisscrossed the state of South Carolina, trying to persuade voters to come out and support them in the primary in South Carolina Saturday.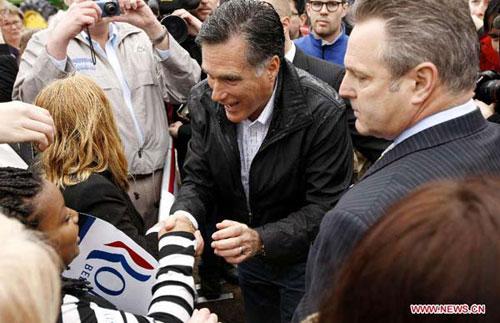 Republican presidential candidate, former Massachusetts Gov. Mitt Romney shakes
hands with a little girl after a campaign in Gilbert, South Carolina, Jan. 20, 2012.
With just hours away from a crucial Republican presidential primary in South Carolina,
many experts believe the tight race between Mitt Romney and Newt Gingrich could have
much more implications beyond the primary itself. (Xinhua/Fang Zhe)


The perceived frontrunner Mitt Romney got on stage at Gilbert, South Carolina, under on and off rain with the state Governor Nikki Haley, who endorsed the former Massachusetts governor. He used the rally to tout his economic vision and attacked President Barack Obama, who he hopes to challenge in the general election.
Scott Rutter, a Gulf War veteran who supports Romney, said Romney could wind up with more veterans' votes than other candidates, because he has "got it right" on the veteran issues. He said veterans don't want "handouts," but rather economic opportunity. Veterans make up a big portion of the South Carolina GOP primary vote.
Economic issues also loom large in other sections of the GOP. Frank Dempsey, a supporter of Romney, said he switched from supporting Newt Gingrich, the main challenge to Romney in South Carolina, because he thinks Romney's extensive experience in the private sector could help him figure out a way to turn the economy around, should he be elected president.
"Economy is really the number one issue here," said Royce Howsare, another Romney supporter who braved the shower to come to the rally.
Gingrich, the former House speaker, who's enjoying a surge in polls, appeared before a standing-room only crowd in Orangeburg. He also used the appearance to talk about his views about economy, and swiped Obama for his handling of the country's ailing economy.
Roy Lindsey, an executive committeeman of the Orangeburg County GOP, said debt and deficit is the most important issue in this election, and reviving the economy and creating jobs are closely connected with how the country handles the debt and deficit situation.
According to Robert Shapiro, a political science professor of Columbia University, South Carolina, with an unemployment rate of around 10 percent, "the economy is an issue that looms very large," and how voters perceive who is better suited to handle the economy could determine the winner here.
Besides the two frontrunners in the South Carolina race, Texas Congressman Ron Paul and former Pennsylvania senator Rick Santorum also held multiple events, calling on their supporters to give them a surprise victory.
South Carolina primary is the first one in the South, and could be a bellwether for the race. Shapiro said it could provide indications of "viability and credibility of candidates."
"South Carolina is a sufficiently different state from Iowa and New Hampshire that people may be influenced by this... if, hypothetically, Gingrich does very well in South Carolina, it's not so much they're automatically going to just gravitate toward Gingrich; they're going - they might think about, well, why did they - why did people vote for Gingrich? And then they'll start thinking about problems with Romney, and that may resonate with them, and that may resonate further in subsequent elections," said Shapiro.
Related stories
Editor:Zhang Hao |Source: Xinhua