UNITED NATIONS, Jan. 25 (Xinhua) -- UN Secretary-general Ban Ki-moon said here on Wednesday that he wants his team "to look deeply at the world and our work today," in order to help build "a safer and more secure world" in the face of multiple crises such as climate change, food insecurity and deadly diseases.
The secretary-general made the statement at a press conference, his first at the UN Headquarters in New York since he began his second five-year term on Jan. 1.
"In addition to the core business of the United Nations, I want our team to look deeply at the world and our work today," he said.
Earlier on Wednesday, Ban briefed the 193-member UN General Assembly on the priorities of the UN work in his second term.
"The next five years will be crucial for defining and agreeing on a common vision for the future; making path-shaping investments; broadening the base of constituencies working together; and adopting a flexible but robust international architecture that can address the increasing stresses on our international system," Ban said in his briefing to the General Assembly.
Ban's five priorities for the next five years are sustainable development, preventing conflicts and disasters, human rights abuse and development setbacks, building a safer and more secure world, supporting nations in transition, and working for women and young people.
"Today, I want to share with you an action of agenda for the coming five years," Ban said. "A plan to make the most of the opportunities before us. A plan to help create a safer, more secure, more sustainable, more equitable future. A plan to build the future we want."
"To ensure that our generation and future generations benefit from the opportunities presented by this changing reality and are able to mitigate increased risks, the global community will need to work together in unprecedented ways," he said.
"The United Nations can play a central role in strengthening international governance and establishing constructive patterns of collaboration to manage unprecedented threats and demands for change, and to take advantage of new, generational opportunities," he added.
The "action agenda" presented by Ban includes an unprecedented campaign to wipe out five of the world's major killer diseases -- malaria, polio, pediatric HIV infections, maternal and neonatal tetanus, and measles.
Ban also announced that the United Nations will work with member states to make Antarctica a World Nature Preserve, and that he will appoint a new special representative for youth.
Among his other proposals are the convening of a first-of-its- kind World Humanitarian Summit to help share knowledge and establish common best practices, and the creation of a New UN Partnerships Facility to harness the full power of transformative partnerships across the world body.
"Waves of change are surging around us," Ban told the General Assembly. "If we navigate wisely, we can create a more secure and sustainable future for all. The United Nations is the ship to navigate these waters."
"We are the venue for partnerships and action. Now is our moment. Now is the time to create the future we want," he said.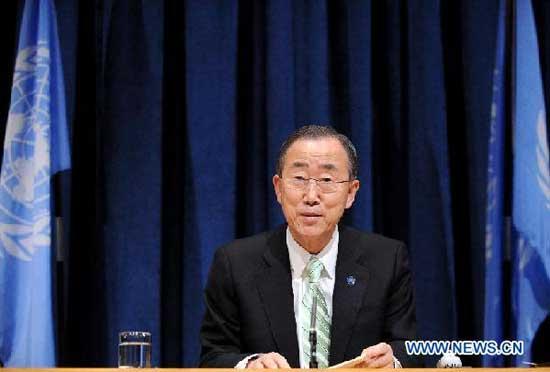 United Nations Secretary General Ban Ki-Moon speaks during his first press conference
since he began his second five-year terms on Jan. 1. at the UN Headquarters in New
York, the United States, Jan 25, 2012. (Xinhua/Shen Hong)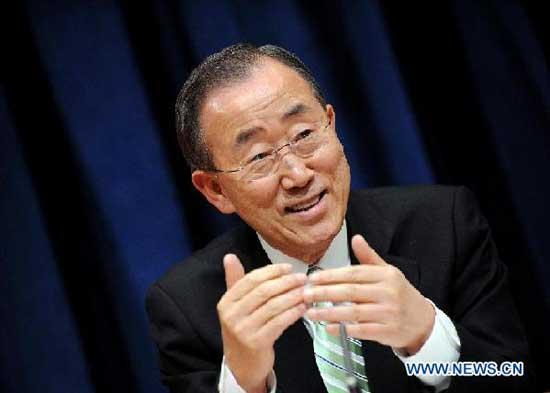 United Nations Secretary General Ban Ki-Moon speaks during his first press conference
since he began his second five-year terms on Jan. 1. at the UN Headquarters in New
York, the United States, Jan 25, 2012. (Xinhua/Shen Hong)
Editor:Zhang Rui |Source: Xinhua