MELBOURNE, Jan. 26 (Xinhua) -- Second seed Victoria Azarenka cruised into the final of the 2012 Australian Open on Thursday by beating defending champion Kim Clijsters 6-4, 1-6, 6-3.
"Aussie Kim", who claimed the title a year before by beating Chinese No.1 Li Na, enjoyed more enthusiastic crowds support than Azarenka, but she could not catch up the movement of the 22-year-old Belarussian on court and conceded the match in two hours and 12 minutes.
Azarenka will clash against the winner of the other semifinal between fourth seed Maria Sharapova and second seed Petra Kvitova later on Thursday.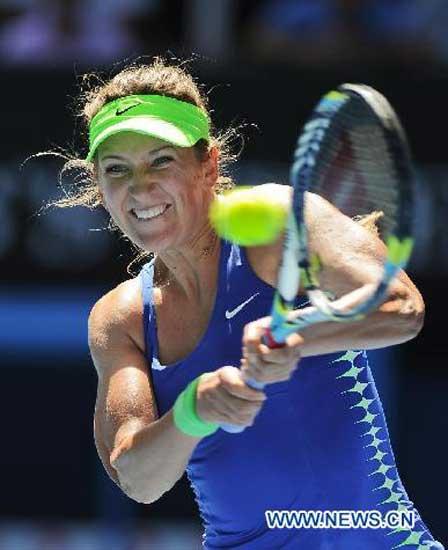 Victoria Azarenka of Belarus hits a return to Kim Clijsters of Belgium
in their women's singles semi-final match at the Australian Open tennis
tournament in Melbourne, Australia, on Jan. 26, 2012. Azarenka won 2-1
and advanced into the final. (Xinhua/Bai Xue)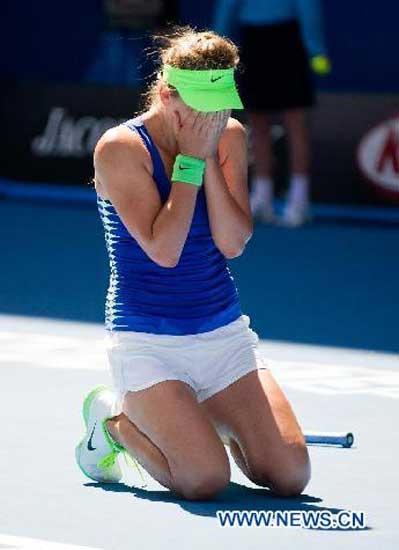 Victoria Azarenka of Belarus kneels down as she celebrates her
victory over Kim Clijsters of Belgium in their women's singles
semi-final match at the Australian Open tennis tournament in Melbourne,
Australia, on Jan. 26, 2012. (Xinhua/Bai Xue)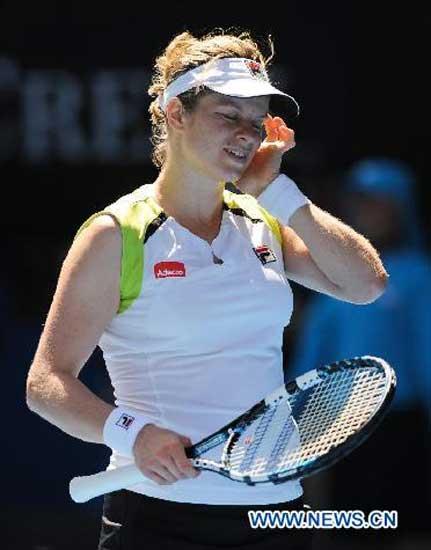 Kim Clijsters of Belgium reacts in the women's singles semi-final match
against Victoria Azarenka of Belarus at the Australian Open tennis tournament
in Melbourne, Australia, on Jan. 26, 2012. (Xinhua/Bai Xue)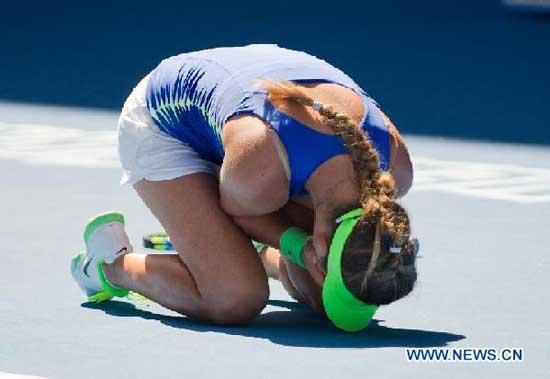 Victoria Azarenka of Belarus kneels down as she celebrates her victory over Kim
Clijsters of Belgium in their women's singles semi-final match at the Australian Open
tennis tournament in Melbourne, Australia, on Jan. 26, 2012. (Xinhua/Bai Xue)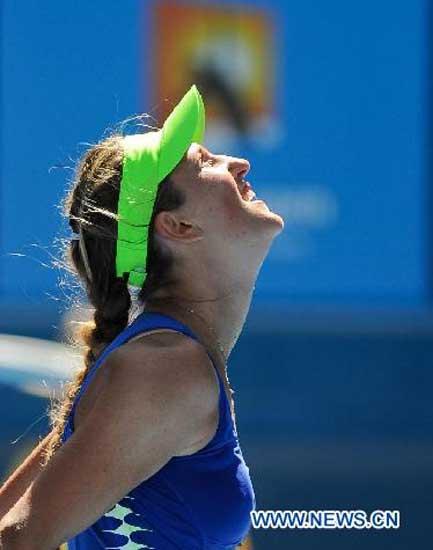 Victoria Azarenka of Belarus celebrates her victory over Kim Clijsters
of Belgium in their women's singles semi-final match at the Australian
Open tennis tournament in Melbourne, Australia, on Jan. 26, 2012.
(Xinhua/Bai Xue)