ATHENS, Feb. 9 (Xinhua) -- Greek leaders have wrapped up a 7.5-hour talk and reached an agreement in principle on austerity and reform measures in exchange for a bailout package deemed vital to avert a potentially disastrous default next month, a statement from the prime minister's office said on early Thursday.
"There was wide agreement on all the points of the program except for one issue that requires further talks with creditors," the statement said.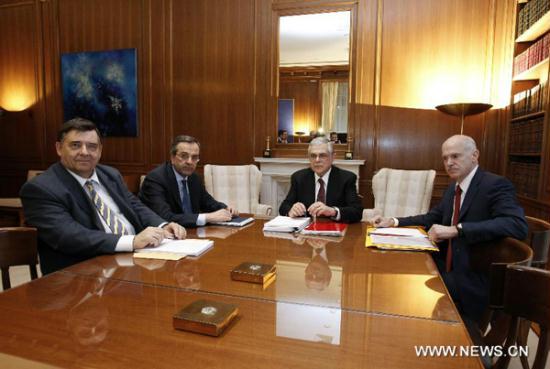 Greek Prime Minister Lucas Papademos (2nd R), Socialist PASOK party leader and former
Premier George Papandreou (1st R), conservative New Democracy President Antonis Samaras
(2nd L) and rightist Popular Orthodox Rally head George Karatzaferis (1st L) attend a
meeting of the political leaders of the three parties in the coalition government in
Athens, capital of Greece, on Feb. 8, 2012. (Xinhua/POOL/Yiorgos Karahalis)
It said the dialogue would continue immediately to conclude the deal ahead of the euro group meeting scheduled for Thursday afternoon in Brussels.
The statement added that George Karatzaferis, President of the Popular Orthodox Rally (LAOS), the small rightist party supporting the three-party transitional administration, "expressed severe reservations" on the agreement.
The in-principle accord comes after lengthy and tough talks with a delegation of European Union(EU)/International Monetary Fund (IMF) inspectors in Athens since last week, over the conditions to release a vital rescue loans package to Greece.
The 130-billion-euro (172.56 billion U.S. dollars) loan, the second of its kind since May 2010, is deemed crucial to escape a bankruptcy that could have major repercussions across the eurozone and global economy.
Prime Minister Lucas Papademos is now meeting with representatives of the so-called "troika," namely the European Commission, the International Monetary Fund and the European Central Bank.
Editor:Zhang Rui |Source: Xinhua