HAIKOU - Officials from South China's Hainan province on Thursday reiterated the island's "zero tolerance policy" toward price gouging at tourist attractions during the peak travel time and vowed a stern crackdown over the next three months.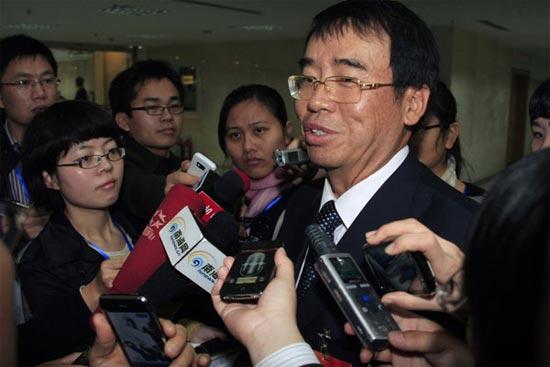 Lu Zhiyuan, director of the Hainan tourism development commission, is interviewed by reporters in Haikou, Hainan province, on Thursday, at a plenary session of the provincial congress. Huang Yiming / China Daily
"We will not allow one rotten apple to ruin the whole barrel," said Lu Zhiyuan, director of the Hainan tourism development commission and a deputy to the ongoing plenary session of the provincial people's congress.
Lu's remarks came after the administration of industry and commerce in Sanya city on Wednesday decided to revoke the license of a seafood restaurant called Fulinyucun, which was found guilty by official investigation of fraudulent pricing practices.
The restaurant labeled two types of seafood with fabricated names and overcharged customers, according to an official statement jointly released by the administration and local bureau of price control.
The two departments probed into the case after Luo Di, whose identity was confirmed by micro-blogging site Sina Weibo, said online on Jan 28 that his friend's family ordered three ordinary dishes and the restaurant charged them 4,000 yuan ($636). The post was forwarded and commented on thousands of times by netizens, some of whom complained of similar experiences in the tropical vacation destination.
Another restaurant was fined 500,000 yuan on Thursday for price gouging, the statement said.
Wu Caigui, who has run a seafood restaurant for more than a decade by a scenic spot near Sanya, applauded Sanya government's crackdown.
"Although my business has not been affected by the price scandal, it definitely sullied the reputation of the whole industry and Hainan's image," he said.
However, Wu stressed that seafood restaurants are not the only one to blame for high food prices.
"Many fishermen didn't go fishing during the Spring Festival holiday. Meanwhile, the island was overwhelmed by tourists who wanted to treat themselves to the best food, so the prices rose naturally," he said.
"What made tourists angry was that some restaurants in Sanya tampered with the scales, causing the seafood to weigh heavier than it should be," he said.
Lu said the aforementioned phenomenon reflected the mentality of some businessmen who pursue profit above all, and an adequate supervision system has yet to be established in Hainan.
He also admitted that the service and management capacity of the island province have failed to keep pace with the soaring demand from the rapidly increasing number of tourists that have poured in since local authorities vowed to develop the province into an international tourism island in 2010.
About 30 million tourists visited Hainan last year, an increase of 10 million compared with the tally for 2008, Lu said.
The latest statistics from Hainan's tourism office also showed that the warm weather and beaches attracted more than 1 million travelers during the Spring Festival holiday, which ran from Jan 22 to 28, raking in about 4.3 billion yuan in revenue for tourism-related sectors.
Zhou Jingmin, a deputy to the provincial people's congress and a Sanya native, said locals have a right to enjoy the fruits of Hainan's tourism development. Zhou said the provincial government can never achieve the goal of developing Hainan as a world-class travel destination without improving the "happiness index" of local residents.
"If the hosts are not happy, how can you expect them to show hospitality to guests?" asked Zhou.
Zhou urged the government to ensure that local residents can benefit from the booming tourism industry by measures to raise local incomes, and he called on leaders to guarantee that the lives of local people are not disturbed by travelers.
"Right now, the floods of tourists have brought traffic jams and raised living expenses, including food and housing prices, in Hainan, especially Sanya, which has made local residents unhappy," he said.
Editor:Zhang Jianfeng |Source: China Daily