BEIJING - Last April over 500 dogs were rescued from the slaughter house just outside of Beijing. Over the course of the year many dogs have either been adopted or have died from disease. Of the dogs that are left, about a little over 200 are currently living under the care of the China Small Animals Protection Association, or CSAPA.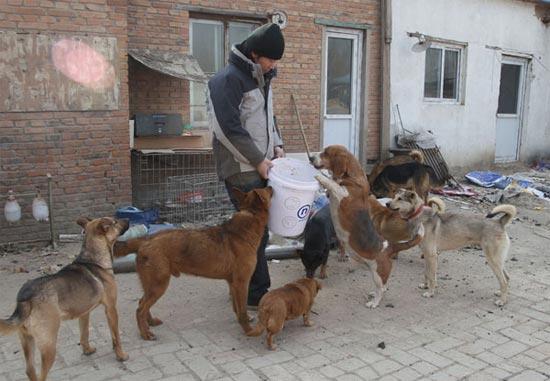 Wang Qi, a worker at China Small Animals Protection Association (CSAPA), delivers food to dogs in Beijing on Feb 9, 2012. [Photo by Feng Yongbin / China Daily]
The dogs live in a CSAPA compound about half an hour from the city proper near the outskirts of the 6th ring road. At about 1.2 hectares the compound is home to over 700 dogs, dogs of all sizes and breeds, but most of them are mutts.
Paid for by volunteers and animal lovers, the CSAPA runs on donations from various benefactors and public support. Wang Qi, who has been with the CSAPA for over a year says that many of the dogs from the April 15 incident are doing well now.
"The dogs are always happy to see people, they get very excited," said Wang as two waist height dogs pounced on him. "The better tempered dogs get to run around the compound, its better for them than cages."
Wang says it is unfortunate that some dogs still remain in cages but the association is currently working on that problem. They are raising funds through donations and online sales of dog food to build a fence around the back part of their compound so some of the bigger dogs maybe able to run about.
"Ideally, we would want to adopt out the dogs, that way they can find a nice home," said Wang. "But these are big dogs, there are hardships in the adoption process, on top of that they are mutts and not purebreds."
"It is easy to adopt a dog; we need more people to adopt. The only requirements is that the adopter be able to support the dog and that we can come and do checks to see how the dogs are doing from time to time."
Currently the future of the dogs are uncertain, while they are fed and housed in the compound and the CSAPA does not put animals down, the CSAPA maybe forced to vacate their compound in the coming year. Wang says they are doing their best to make sure the dogs have a place to go, but right now finding a location is proving to be difficult.
Editor:Zhang Jianfeng |Source: China Daily